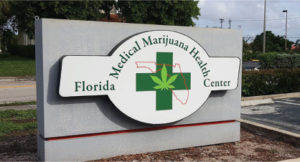 Rolling with the changes continues for Florida Medical Marijuana Health Centers as they plan to grow into America's first Marijuana based national chain. The owners of the centers, Jerry Lee and Rob Fronrath recently signed an agreement with Canovis Health Centers of America. A merger that parlays into a name change and a national company. In the weeks to come you will see sign changes and label differences, but still delivering clean medical grade CBD oils and HEMP products manufactured in America. The health center's staffs are well prepared for the switch. They've been professional, knowledgeable, and helpful through a simple process in receiving a medical marijuana card. They specialize in the recommendations in obtaining your Florida Medical Marijuana card. They have licensed doctors Dr. Nicola Masse M.D. and Dr. Bennet Lewis M.D. on staff who are certified in the medical marijuana field. Here's a quick bullet point informational on the whole procedure.
Schedule an appointment with our doctor
10-15-minute examination

 

If you have a qualifying condition, you will be entered into the state system and given a patient number
We will supply you with the state required forms and instruct you on the application process
Once your application has been submitted to the state you will receive an email in about 3 to 4 weeks with your card number
Once your card number has been received you are able to purchase, possess, and use the medical marijuana according to your prescription

 

Your actual card will arrive in the mail shortly there after

 
The switch from Florida Medical Marijuana Health Center to Canovis Health Centers of America will happen smoothly since they've maintained the entire medical and professional staffs. That eases the pressures of moving forward in the industry and becoming the first medical marijuana national chain.
Rob and Jerry did not set out to be pioneers. They believe so much in the benefits from these oils they wanted to help make it available to everyone around. October 2017, they open the doors to the public. 
Only 90 days into business they found themselves opening two more locations. Florida Medical Marijuana Health Centers now has 3 locations and 3 additional locations in conversations. It has been only six moths since then and they just merged with Canovis Health Centers of America. And now their help concept will reach more people than they ever dreamed possible. Rolling with the changes is changing people's lives.
Testimonials:
"My 13 year old, 80 pound, chow/lab mix had to be helped to stand because of arthritis in her rear hips.
I bought the CBD oil from this establishment and one hour after the first dose she actually stood on her own. She is also walking up and down the steps on her own. It hasn't turned her back into puppy status, but it sure has eased her pains. I started her on 7 drops, twice a day. Last week I upped it to 8 drops, twice a day. A 1 ounce bottle has lasted just over 2 months. Many thanks to the helpful, knowledgeable, and friendly staff at Florida Medical Marijuana Health Center for their excellent service and advice. Great place to go!!"
"I had the best experience ever in front of me when I had my appointment with Fla medical marijuana health. Center The doctor was so concerning and helpful in making my decision on getting my card.
I would recommend this health center to anyone. Great experience!"
"Professional service with informative doctor and staff to help make the process go smoothly. I would highly recommend to anyone considering a medical marijuana card. They also have great quality CBD products."
"I have been with the Clinic since around September 2017 and I love these guys! They have helped me through the process to receive my MMJ card at an affordable price. I have even renewed there at my 6 months because the Medical Marijuana helps to relieve some of the pain I have due to a Tarlov Cyst 1.1cm on my S3. It helps with depression caused by the Cyst pain. The MMJ helps relieve some of the pain which allows me to be able to stand longer and walk better. I also suffer Wet AMD and take quarterly eye injections to prevent further blindness which is depressing too. I take it before receiving the shot which calms me. At night I use the Concentrate which improves my sleep. The clinic has an office lady named Stephanie that has helped me through issues when I was first certified. The owners have worked with changing their doctor that is much more understanding to patients needs. I will continue to use this place because I know I am taken care of!" 
Florida Medical Marijuana Health Centers
561-223-0743
Flamjcenter@gmail.com
https://www.facebook.com/flamjcenter/
700 W Boynton Beach Blvd.
Boynton Beach, FL 33426
561-223-0743
6266 S Congress Ave.
Suite # L-8, Lantana FL, 33462
561-429-2105
450 Northlake Blvd. #7
Lake Park FL, 33403
561-328-8384