By Lee R. Cohen, D.D.S., M.S., M.S. –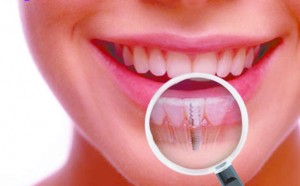 A common misconception is that dental implants are a guaranteed, permanent solution to replacing missing teeth.  Many patients think of an implant as a new "part" that will last indefinitely.  Dental implants do have a fantastic track record and most definitely have the possibility of lasting a lifetime.  It is also important to remember that implants need to be cared for in the same fashion as teeth and can over time lose its jaw bone support.
How They Work:
In short, dental implants are tooth root replacements.  When a tooth is removed (both the crown and root), a new root can be placed in the socket where the original root lived.  Over a number of months, this new root (AKA implant) typically becomes "glued" to the bone.  Once the dental implant reaches this stage, a crown or permanent restoration can be attached.
A nice thing about a dental implant is that it will not get decay.  What many people do not realize is that it is possible to lose bone around the implant over time.  This bone loss can occur due to a number of factors such as poor oral hygiene, medical issues, medications, aging and genetics.  If bone is significantly lost around an implant (similar to a tooth root), ultimately this new root could fail.
What Can Be Done:
Periodontal disease impacts the relationship between the tooth root and bone.  Bone is lost and treatment involves trying to arrest the situation and help extend the life of the tooth.  Peri-implant disease is a similar situation that occurs between the bone and a dental implant.  The goal of treating peri-implantitis is to try and slow or stop the loss of bone around the dental implant.  If successful, this treatment can help extend the life of the implant itself.  Traditionally, treatment around implants presenting with bone loss involves a small surgery to open and cleanout the area involved.  In some situations, bone graft material can be added to help attempt to redevelop lost bone in the treatment site.
Non-Invasive Therapy:
Laser implant therapy, also known as LAPIP (Laser Assisted Peri-Implantitis Procedure) offers the ability to treat an implant with inflamed gums or bone loss without the use of a scalpel.  At this time, only one laser can be used to perform LAPIP due to the specific laser wavelength needed to achieve the desired result.  The therapy has been shown to improve tissue around implants as well as possibly help regrow bone.  Minimal to no discomfort post-operatively is seen and no cutting or sutures are used during the treatment.  The therapy is not applicable in all instances and a periodontal evaluation is necessary to determine if the situation is appropriate for laser therapy.
Inflammation and bone loss around dental implants may not be easily recognizable to you the patient.  Periodic evaluation will help determine if peri-implant disease is starting to occur.  Whether early or late in the disease process, treatment may help preserve the life of your dental implant.  Therapy such as LAPIP offers the ability to address problems with no more discomfort than a dental hygiene appointment.
Lee R. Cohen, D.D.S., M.S., M.S., is a Dual Board Certified Periodontal and Dental Implant Surgeon.  He is a graduate of Emory University and New York University College of Dentistry. Dr. Cohen completed his surgical training at the University of Florida / Shands Hospital in Gainesville, Florida.  He served as Chief Resident and currently holds a staff appointment as a Clinical Associate Professor in the Department of Periodontics and Dental Implantology.  Dr. Cohen lectures, teaches and performs clinical research on topics related to his surgical specialty.
The focus of his interests are conservative approaches to treating gum, bone and tooth loss.  He utilizes advanced techniques including the use of the Periolase Dental Laser (LANAP procedure) to help save teeth and treat periodontal disease without the use of traditional surgical procedures.  Additionally, he uses in-office, state of the art 3D CT imaging to develop the least invasive dental implant and bone regeneration treatment options.  Dr. Cohen and his facility are state certified to perform both IV and Oral Sedation procedures.
Dr. Cohen currently serves on the Board of Trustees for the American Academy of Periodontology and the Florida Dental Association.  He is past president of the Florida Association of Periodontists and the Atlantic Coast District Dental Association.  In addition, Dr. Cohen has been awarded Fellowship in the American College of Dentists, International College of Dentists and the Pierre Fauchard Academy.
Lee R. Cohen, D.D.S., M.S., M.S.
4520 Donald Ross Road, Suite 110
Palm Beach Gardens, FL 33418
Phone: 561-691-0020
www.pbcperio.com