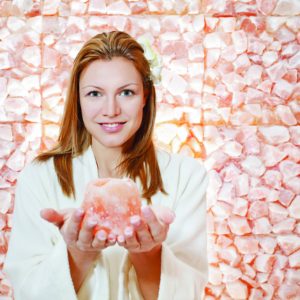 SINUSITIS occurs when the hollow cavities around the eyes, nose, and cheek bones become inflamed. When they are inflamed, they produce mucous. They make you feel "stuffed up". The swelling and inflammation increases mucous production creating an ideal environment for bacteria to exist – leading to infection…Sinusitis.
30 million Americans are affected by sinusitis at any given time according to the American Academy of Allergy, Asthma and Immunology.
The good news – re-creation of the salt cave environment at The Salt Suite reduces inflammation, therefore reducing mucous and aiding in the healing process. You'll not only feel relief from your sinus pain and symptoms, you will be doing something that helps fight the infection and prevent it from coming back.
Here is a great message from Mike
about how it helped…
"Saturday I had my first salt-therapy session. I went in with a sinus infection, very bad sinus headache. After my session my sinuses drained for the next two days, headache went away the first night. The Salt Suite, you Rock. P.S. Tina & I had our 2nd session today, we love it."
– Mike M.
Dry pharmaceutical-grade salt is ground by Halogenerators into 0.3 microns and pumped into the air in the salt room as a super-fine aerosol. These micro-particles are fine enough to enter the sinuses and even the eustachian tubes! As you relax in a comfortable chair with your favorite book or a magazine, you are breathing in anti-inflammatory and microbe-killing SALT! Breathe easier, fight infection and get relief from your sinusitis symptoms. Children have their own salt playroom to receive the same benefits as grown ups! CALL 561-316-3105 to make an appointment for your introductory 1/2 priced visit to The Salt Suite PGA at 5510 PGA Blvd. Suite 105.
Changing Lives One Breath at a Time!
Coutact us 561.316.3105
5510 PGA Blvd. Suite 105
Palm Beach Gardens, FL 33418
thesaltsuite.com