"5X Heavyweight Champion Evander Holyfield's home is up for auction this Friday at 2:00pm."
How is that even possible I pondered?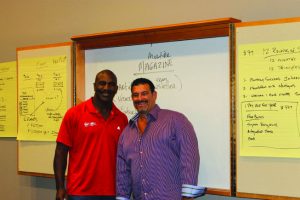 My heart was breaking as I stared at Huffington Posts online article that Wednesday afternoon. What could I do? How could I help my sports hero Evander Holyfield? At the time, I was the founder and CEO of Crown Financial one of the largest Christian Debt Relief companies in America. After careful consideration, I penned a 4-page handwritten letter to Evander, sharing the details of an encounter and random breakfast that I was privileged to enjoy with the late Whitney Houston back in the summer of 1996 in Aventura Florida.
At the end of the 4-page Whitney story, I encouraged Evander that most of humanity faces very similar challenges in life, albeit finance, family, fitness, friendships and even faith. I invited "The Champ" into a new possibility to overcome his obstacles with my assistance and a week later I was sitting in the lobby of The W Hotel in downtown Atlanta have breakfast with "The Real Deal" and my new client Evander Holyfield.
Over the years I have helped Evander re-invent his career outside of the ring endorsing companies, and sharing his story as a celebrity speaker. Evander is as healthy today as when he beat Mike Tyson for the heavyweight title back in 1996. The $400 million dollars that he earned and spent during his boxing career doesn't really bother him today.
"I am grateful for all that I have experienced and the things that I have been through", a motto that has helped Evander's ongoing success both financially and physically. Evander says that "setbacks pave the way for comebacks and increase the measure of faith that God has put in each one of us."
Often times when working with clients I hear them say things like; I'm not smart enough, I'm not good enough, I'm not strong enough, I'm not successful enough, I'm not handsome enough, I'm not pretty enough, I'm fat, I'm ugly, I'm a failure, I'll never be successful, I'll never lose the weight, I just can't do it! Now, if you want to be right about these things you can, but are you inspired to be the best version of yourself with this kind of Self-Talk? Are these the kind of affirmations that are going to increase your faith? Are you going to trust yourself at a greater level by reminding yourself about all of your past failures? The answer is NO! Now, I don't know your exact situation or the pain that you carry, but one thing I do know is that your past doesn't define you, it prepares you for a bigger brighter future then you have ever dreamed possible. Here is the key that I taught Evander, and that I will now share with you. Be GRATEFUL for all that you have been through in the past, be GRATEFUL for where your life has brought you today, and get clear about what you want to create in your future, make a plan and go for it!
What does the Bible say
about GRATITUDE?
This is the day that the Lord has made; let us rejoice and be glad in it. (Psalm 118:24)
Give thanks to the Lord, for he is good, for his steadfast love endures forever. (Psalm 136:1)
Therefore, let us be grateful for receiving a kingdom that cannot be shaken, and thus let us offer to God acceptable worship, with reverence and awe. (Hebrews 12:28)
Continue steadfastly in prayer, being watchful in it with thanksgiving. (Colossians 4:2)
But I with the voice of thanksgiving will sacrifice to you; what I have vowed I will pay. Salvation belongs to the Lord!" (Jonah 2:9)
Giving thanks always and for everything to God the Father in the name of our Lord Jesus Christ. (Ephesians 5:20)
Allow yesterdays curse to become today's blessing! Be GRATEFUL!
To schedule YOUR FREE 30-Minute Power Session
and to eliminate whatever challenge is blocking
YOUR ATTITUDE Of GRATITUDE and
YOUR PATH TO GREATER SUCCESS
call Marc Feinberg at 561.309.1334