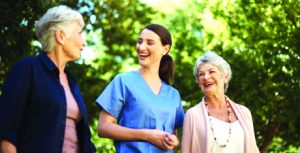 If you've ever received the harrowing phone call from a friend or relative, "Your mom is in the hospital; she fell down the stairs" or, "your dad tripped over the curb and hit his head on the pavement," then you are aware of the dangers seniors face every day living on their own.
Did you know that adults over 65 average at least one fall per year? Let us help you spot potential hazards with our free home safety assessment. According to the CDC & Prevention (Center for Disease Control), every 11 seconds an older adult falls; and even more disheartening, every 19 minutes, one of them dies in the emergency room from complications of their fall.
How You Can Help Your Aging Parent or Spouse
• Get them a monitoring device
• Have a person check in on them every day
• Call multiple times per day
• Install hand railings
• Get them a walker or cane
• Make sure they don't go up and down stairs alone
One of the biggest issues that most of us are aware of is that we're never certain that the elderly loved one in our life is safe. We worry constantly, think of the worst case scenario, and question whether we're doing enough.
Why is it that seniors are plagued with falls?
Many factors can contribute to falling and tripping, but with the elderly six issues are the main offenders.
•  Medications may cause drowsiness and dizziness
•  Balance can be off due to inner ear crystals (common to aging)
•    Gait Issues (cognitive decline can cause shuffling; joint pain causes stiffness, etc.)
•    Vision Loss can cause peripheral blindness, clouded vision, and perception limitations
•    Environment: tripping over area rugs, cords, uneven tiles, slipping in the bath, poor lighting, etc.)
•    Chronic Conditions: disease can lead to limited range of motion, vestibular disorders and fatigue
Taking the initial steps to preventing falls and keeping them safe is easy. We simply need to get them the additional help they deserve. That's where home care fills in the gap.
Homemaker and companion services offer support within the privacy of your home. Most individuals would rather live out the remainder of their lives in their homes, as opposed to a facility. Professional Care Coordinators is the piece of the puzzle that pulls the picture altogether. For example, one of the first things your coordinator does is assess the home environment and recommend removing any obstacles such as rugs and cords. They are also there when you're not able to be and they caringly offer a friendly face to help the aging individual make it safely through their day.
It's critical for the weak and frail to have regular caregiver support on a daily basis.
Professional Care Coordinators is locally owned and composed of compassionate people who are deeply committed to helping our cherished seniors in our community age gracefully, safely and comfortably at home without compromising their dignity or independence.
If you live alone, have a spouse that travels, or an elderly parent that needs care while you're away, you could benefit from Professional Care Coordinators services. There are many services available for these specific situations.
In the elderly in particular, the stress of falling, breaking bones, or suffering long-term damages can be daunting, and if it's coupled with being unable to care for themselves, the loneliness and depression will consume them, slowing down the healing process.
Professional Care Coordinators LLC is a homemaker and companion service that is owned and operated by registered nurses. They have over 25 years of experience caring for people at the most vulnerable times of their lives. Their expertise ranges from newborn to end of life care, and they are registered and insured. Level II background screenings are completed for all caregivers. They cover Palm Beach County, Indian River County, Martin County, Okeechobee County, and St. Lucie County. Your wellbeing and safety is their top priority.
What services do Professional Care Coordinators offer?
• Meal preparation
• Medication reminders
• Shopping assistance
• Transportation to Doctors appointments
• Run errands
• Stand by assist with bathing and personal care needs
If you or a loved one could benefit from Professional Care Coordinators, please contact them today at 561-557-4192. Visit their website at professionalcarecoordinators.com.
Professional Care Coordinators Office
2300 Palm Beach Lakes Blvd. Suite 215E,
West Palm Beach, Florida 33409
561-557-4192
professionalcarecoordinators.com