By Dr. Alan J. Bauman, MD,
ABHRS Board-Certified Hair Restoration Physician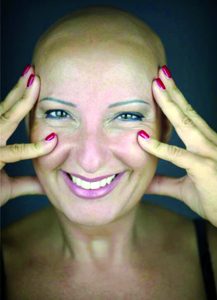 WHAT IS ALOPECIA?
Unlike Androgenetic Alopecia (common male and female hereditary or "pattern" hair loss), alopecia areata is an autoimmune disorder in which the body's immune system mistakenly attacks hair follicles, resulting in the sudden loss of hair. Most often hair loss occurs in patches, with the hair itself coming out in clumps, leaving smooth, bald patches of varying sizes on the scalp, beard, or elsewhere on the body.
Alopecia areata affects both men and women equally, and is most common in people under the age of 20, but it may affect people of any age. According to the National Alopecia Areata Foundation, it is expected that about 6.8 million people in the US will develop the disease at some point in their lives. Globally, that number jumps to 147 million people.
Generally, hair loss with alopecia comes and goes, and the damage it does to hair follicles is not permanent, but the disease varies from person to person. For example, it's possible for hair to begin growing again in one bald patch and then fall out in another patch elsewhere months or years later, or for the alopecia to resolve and never return. In about one out of every ten cases, lost hair does not regrow. In some cases hair loss progresses to total baldness on the scalp, called Alopecia Totalis, or loss of hair over the whole body, known as Alopecia Universalis. While the condition is not life threatening, many alopecia areata patients are unfortunately mistaken for cancer patients undergoing chemotherapy treatment—and therefore often spend a good deal of time explaining "No, I'm not sick" or "No, I don't have cancer" only further compounding a concerning situation.
WHAT CAUSES IT?
Experts do not know why the immune system attacks the body's own hair follicles, but it is believed to be genetic in origin. Those who are affected by alopecia areata are more likely to suffer permanent hair loss if they:
• Have a family history of the condition
• Show signs of alopecia before puberty
• Have the condition for periods of more than a year at a time
• Have extensive hair loss
• Have another autoimmune disease
• Are prone to allergies
• Have fingernails or toenails with abnormal coloring, shape, texture, or thickness
Unfortunately, there's also no known cure.
It is thought that certain factors such as extreme stress physiologically and emotionally can trigger the condition in some people, but there is little evidence to support that stress on its own may be to blame.
HOW DO YOU TREAT IT?
The most common treatment for the patchy hair loss associated with alopecia is a course of corticosteroid injections into the scalp or skin. Corticosteroids may also be applied topically directly to the affected areas, as is often the case with younger children.  PRP or Platelet Rich Plasma injections are a non-pharmaceutical treatment option that has been reported to be successful in some cases.
Sometimes, these treatments are given in tandem with topical applications of over-the-counter minoxidil. If a less greasy and stronger version is desired, compounded Formula 82M minoxidil may be prescribed.
While, several experimental treatments aimed at tamping down the patient's immune system, similar to what is done in the case of rheumatoid arthritis, are being investigated at major research centers, none are FDA-approved.
For those who haven't been successful with available treatment options and are seeking an alternative to traditional wigs, weaves, hats or scarves, they might want to consider a durable, high-quality hair and scalp prosthesis. These prosthetic devices are made with a 3D-printing process to allow each to be custom-fitted to the patient's scalp and precisely matched to their skin color. 100% unprocessed human hair is then meticulously implanted in natural hair growth patterns for a the most natural look. Painstakingly handcrafted in Italy and applied with a medical-grade adhesive, they allow patients to shower, swim, dance, play sports or even skydive, and to style their hair normally. These comfortable, high-end hair and scalp prosthetics last for years and are virtually indistinguishable from one's own natural hair, allowing those with extensive hair loss to have a completely full head of hair. Consultations for hair and scalp prosthesis are available at Bauman Medical Hair Loss Treatment Center in Boca Raton.
HOW CAN I AVOID ALOPECIA?
The reality is that you cannot. Even if you've never been affected by the condition, there remains a chance that it could still affect you. As with all hair loss, the best means of prevention is to maintain a healthy scalp and lifestyle. Enjoy a good diet, alleviate as much stress as possible, and avoid harsh chemicals or environmental factors that can trigger a strong reaction from your immune system.
Perhaps one of the best ways to combat alopecia, however, is through education. The more we understand about the condition, the better we will be able to treat it in the future, and to accept it in the meantime.
Those affected by the condition often must face the social stigma of their altered appearance, and are likely to feel unattractive and experience a loss of self-confidence as a result. Let's try to help others as well as ourselves to understand alopecia. While alopecia patients suffer from this disease, it's not life threatening and it's not cancer. These sufferers need your understanding and support.
That's why it's important to get the word out now, during Alopecia Awareness Month, so that together we can help promote understanding, and eliminate the stigma the condition causes.
Bauman Medical  Group
www.BaumanMedical.com