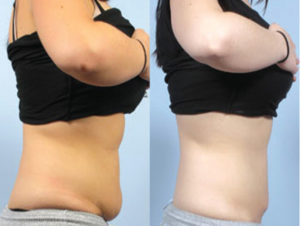 Do you have bulges or problem areas that just don't seem to slim down even though you're exercising and eating a healthy diet? You're not alone; many people struggle with a little extra weight or bulges in their mid-section, back, arms, thighs, chin and the list goes on and on. With all of your diligence, what can you do to reduce those areas without surgery? The answer is CoolSculpting! CoolSculpting has helped numerous individuals just like you, finally rid themselves and improve those stubborn fatty areas that are holding you back.
What is CoolSculpting?
CoolSculpting is the most used non-surgical, FDA-cleared fat reduction treatment. The CoolSculpting treatment's controlled cooling eliminates diet and exercise resistant fat. Millions of CoolSculpting treatments have been performed worldwide to date. We stand behind our work with our Real Results Promise™! 82% of CoolSculpting patients rate the treatment "Worth It" on RealSelf.com. Isn't it time you loved the way you look? Now you can with CoolSculpting, every time you look in the mirror.
CoolSculpting Benefits
It's not painful
No Downtime
It's safe
Great for Both Men and Women
Remarkable results
The typical patient is usually those that have undergone a strict diet and exercise plan but still have stubborn areas that are unaffected by exercise and eating nutrient-dense foods. For example, a patient may have stubborn love handles or a bulge of some sort here or there, that really bother them, with CoolSculpting, they can alleviate these problem areas for men and women.
Details on the Procedure
Because of the intense cold, CoolSculpting, may be uncomfortable at first, while your tissue adjusts to the cold sensation. After a few moments, you'll be numb and not feel much of anything. The CoolSculpting procedure takes at most 35 minutes per applicator. The total treatment time depends on the size of the area being treated.
Is it Safe?
Harvard scientists developed CoolSculpting. It's essentially a rectangular plating system that squeezes your problem area and exposes the fat internally to a frigid degree. So, for example, if you have a belly bulge, the technician places a material over your skin to protect it, and then the device is placed on the bulge. It suctions it up in between the plating system while permeating cold into the fat cells. This creates crystals that develop in the fat cells. Over time, the fat cells will die off. Although you will see results within the first two weeks, the entire process usually takes a few months before your results are complete.
Numerous areas can be treated. To name a few; belly bulges, muffin tops, upper arms, thighs, love handles, flanks, the chin area and the neck are all areas that are commonly treated. Because we can't "spot reduce" with exercise and diet alone, CoolSculpting has really been the answer that so many men and women desire.
If you've been doing everything right, but don't see results in specific areas of your body that you want to change, you've got to try the CoolSculpting procedure!
What Patients are Saying:
"I dieted and exercised but my fat just laughed. I didn't know what else I could do to get rid of problem fat, so I decided on CoolSculpting. […] My problem fat is gone. I am so happy that I had CoolSculpting. My stomach and legs are finally what I want them to be. They are shapely and I can again wear clothes I want. I feel so much more confident that I want to let everyone know CoolSculpting really works."– Aileen S.
"My experience at New Radiance Cosmetic Center in Ft. Lauderdale was outstanding. I had two areas treated with CoolSculpting and after only six weeks I am already very pleased with the results. Moreover, the treatment itself was very easy and relaxed. Much of the comfort of the process was due to the staff at New Radiance, who was terrific. […] I highly recommend New Radiance in Ft. Lauderdale, and Kathy in particular."– Melinda H.
To find out more, please visit the New Radiance CoolSculpting Website at
CoolSculptYourBody.com
Radiance CoolSculpting
Fort Lauderdale
1845 Cordova Road, Suite 204
Fort Lauderdale, FL 33316
Palm Beach Gardens
11701 Lake Victoria Gardens Ave, Suite 1105
Palm Beach Gardens, FL 33410 USA
Port St. Lucie
318 NW Bethany Drive
Port St. Lucie, FL 34986 USA
Wellington
2655 South State Road 7, Suite 830
Wellington, FL 33414 USA