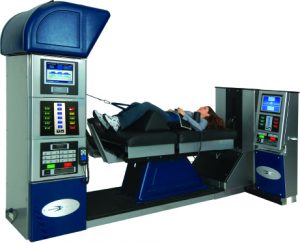 O
ver 80 percent of the population will experience back pain at one time or another in their lives. Unfortunately, spinal discomfort tends to become progressively worse and can become chronic if left untreated. Some of the most common reasons for backaches are trauma or sports-related injury, lifting heavy objects, improper spinal posture, poor sleeping posture, and motor vehicle accidents.
The typically recommended treatments for spinal compression are pain medication and surgery, but most patients are reluctant to have back procedures for fear of long-term spinal complications, and pain medications are very often an addictive habit not easily broken, once the pain is controlled, therefore most individuals are unenthusiastic about taking pain medication prescriptions.
There is a better way; a results-driven solution that doesn't include any drugs or surgery shows favorable results in relieving back pain. For many years
Dr. Reimer
of the
American Med Care Centers
has been utilizing a 100% natural treatment option for back discomfort called,
DRX 9000.
The DRX 9000 is a non-surgical spinal decompression system that is designed to provide pain relief from compressive and degenerative defects and injuries of the spine. The spinal decompression, with the DRX 9000 system provides relief from chronic back and neck pain, unlike any other decompression device.
Its superiority lies in one significant difference; the DRX 9000 utilizes a computerized communication device that continuously monitors and corrects the patient-specific vertebral measurements while decompressing the spine.
Patient Testimonials
Carol
was a long-time hairdresser, and ironically always seemed to be on her feet, even after working hours. Then a series of car accidents changed Carol's life dramatically, and it seemed like the injuries from multiple accidents never had time to heal properly. She tried a variety of treatment options, but with little success.
"I went to an orthopedic surgeon who gave me medication, but it didn't help," says Carol. "I went to chiropractors and got electrical stimulation, but that didn't do much for me either. It would help for a few hours, but then the pain would come right back.I even had a cortisone injection in my back once, but that didn't help at all. In fact, my pain actually got worse after that."
Carol's condition changed after she began
DRX 9000 treatments with Dr. Reimer.
"The first consultation was great," she emphasizes. "Dr. Reimer told me I was eligible for the DRX9000, he showed me a video about it, and it's been great ever since! I stood for almost three hours straight and didn't even realize it! I don't have the burning fire in my spine anymore. It's really amazing."
Another patient of Dr. Reimers,
Greg was experiencing chronic
back pain due to an auto accident.
The accident left Greg with three herniated discs in his lower back. As a result, the pain made his life miserable. In his search for a solution, Greg began the wearying round of doctor visits so familiar to chronic pain sufferers.
"I was taking painkillers," he reports, "and I got pain injections in my spine, but that didn't fix anything."
Greg even contemplated surgery but was understandably reluctant to undergo an invasive procedure on his spine.
"I just didn't want to have surgery at thirty years old" he confides. "You're never the same after surgery."
Greg adds that DRX 9000 therapy was his answer, making a tremendous difference for him.
"My pain got less and less as the weeks went on; to the point where, for the most part, I have no pain at all now," he marvels. "Best of all, I don't need surgery."
Greg credits Dr. Reimer and his staff for paying attention to his concerns and finding the right treatment for this problem instead of just treating the symptoms.
Avoiding Surgery
Dr. Reimer states, "Most patients are not looking to undergo an invasive surgery if they don't have to. Fortunately, for many people like Greg and Carol who feel that they are nearly 'at the end of their rope,' there is a noninvasive solution. Gentle decompression enlarges disc space and eases the herniated or degenerative discs back into proper position, restoring nutrients and blood flow. For a noninvasive machine, it has gotten excellent results with patients with all causes of back pain, such as herniated, bulging or degenerative discs, which make for very difficult cases, as well as for some of the simpler cases. I've been utilizing it in Palm Beach County for approximately 15 years, and we have had excellent effectiveness with it. We have had patients who get immediate relief and others where  the treatment has taken longer."
American Med Care Center offers a variety of treatment options for chronic back pain, sciatica, herniated or bulging discs, spinal stenosis, and Failed Back Surgery Syndrome. To schedule an appointment, call the office at
(561) 967-6655
, or visit
treatingyourbackpain.com
.