Elissa S. Norton, MD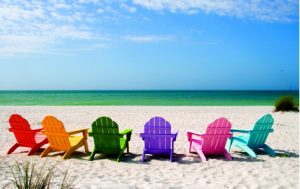 Although summer has ended, skin cancer prevention and detection is important year round. Living in Florida, we are exposed to ambient sun on a daily basis. All of the leisure time playing golf, tennis, swimming and even routine activities such as driving, walking our pets, and checking the mail can put us at an increased risk for sun damage. Luckily, Board Certified Dermatologist Dr. Elissa Norton has strategies we can employ to enjoy the sun safely.
Prevention:
One of the most well-known methods to protect our skin from the sun's damaging rays is, of course, sunscreen. The American Academy of Dermatology recommends applying a sunscreen that has an SPF (Sun Protection Factor) of 30 or higher, and that is labelled with the words "broad spectrum" indicating both UVA and UVB coverage. UVA rays are the "Aging" rays that can prematurely age your skin, causing wrinkles and age spots, and can pass through window glass. UVB rays are the "Burning" rays that are primary cause of sunburn and are blocked by window glass. Dr. Norton notes that sunscreen should be applied fifteen minutes before going outdoors and should be reapplied every two hours, or after swimming or sweating. Most people do not apply the recommended amount of sunscreen. A general rule is to use 1 ounce – or enough to fill a shot glass – to cover the exposed areas of the body. Don't forget areas such as the ears, back of neck, tops of feet, and an SPF-containing lip balm for the lips!
Another very effective and affordable option to aid in the defense of skin cancer is to wear sun protective clothing. This is clothing that is certified to have a UPF (Ultraviolet Protection Factor), a rating system similar to the SPF system used for sunscreens.
A garment with a UPF of 50 allows only 1/50th of the UV radiation to pass through, effectively blocking 49/50ths or 98% of the UV radiation. There are many fashionable lines of sun protective clothing that
Dr. Norton recommends, offering everything from hats, swim shirts, golf shirts all the way to adorable dresses and daily wear. Additional tips to remember when enjoying the sunny Florida life style are to wear your sunglasses and do your best to avoid the sun's peak hours from 10am to 2pm. If your shadow is shorter than you are, seek shade. Florida is a great place to delight in the beautiful outdoors, just be sun-smart. Remember, prevention is the best medicine!
Importantly, do not using tanning beds. Tanning beds have been proven to increase your risk of skin cancer, and like the sun, can cause premature aging.
Here are some helpful reminders for reducing your sun exposure while still enjoying the outdoors:
•    Wear sunscreen that is Broad-Spectrum SPF30+
•    Apply sunscreen15 minutes before sun exposure, and reapply every 2 hours or after swimming or sweating
•    Avoid direct sun exposure from 10am to 2pm
•    Consider wide-brimmed hats and sun protective clothing
•    Wear sunglasses for eye protection
Skin cancer detection:
Even when we are doing our best to protect our skin, it is still recommended to have a yearly skin exam by a Board Certified Dermatologist. In her office, Dr. Norton thoroughly checks the body, examining all the way from the scalp to in between the toes. She utilizes a dermatoscope, a polarized magnifying glass, which amplifies skin structures so that she can identify skin cancers earlier. Skin cancer affects people of all ages, colors and races, although those with light skin or who burn easily, those who have a history of prolonged sun exposure, as well as those who have a family history of certain skin cancers are at an increased risk. Skin cancer can be easily treatable in most cases when caught early. You can be proactive by performing your own skin checks, all the way from the head to the toes. This will help you get to know your own skin and become more aware of any abnormal changes that may be occurring. Your birthday is a great time to check your birthday suit!
Things to look for are:
•    Rough, scaly areas
•    Bleeding areas or spots that are not healing
•    Changing or growing moles
•    Any "ugly" duckling spot that stands out on the body
The skin is the largest organ of the body. Our skin regulates our temperature, allows us the ability to touch and feel, and protects us from outside harm. Let's do our part to help it out! Contact Dr. Norton today for your comprehensive skin cancer exam and any of your dermatologic needs.
Elissa Schwartzfarb Norton M.D. is a native of Boca Raton, where she was born, raised, and graduated as Valedictorian from Spanish River High School. She completed her undergraduate education at the prestigious Massachusetts Institute of Technology, where she was honored with the Asinari Award for Outstanding Undergraduate Research. She continued performing graduate level research at Harvard University and the Dana Farber Cancer Institute before returning to South Florida to complete her medical education. She received a merit-based scholarship to attend the University of Miami School of Medicine, where she graduated at the top of her class, and was inducted into the elite Alpha Omega Alpha Medical Honor Society. Dr. Norton remained at the University of Miami for her Internship in Internal Medicine and Residency in the Department of Dermatology and Cutaneous Surgery. She has received numerous awards including the Women's Dermatologic Society Mentorship award, American Society for Dermatologic Surgery Preceptorship award, scholarships to attend annual meetings of top dermatology societies, and the award for Outstanding Contribution to Medical Student Teaching. Dr. Norton has numerous publications in peer-reviewed medical journals and has presented her research at regional and national dermatology conferences. Dr. Norton enjoys all aspects of dermatology including medical dermatology for all ages, cutaneous surgery, and aesthetic dermatology. Her passion for skin health and her personalized approach to patient care have made her a favorite in South Florida.