By Daniela Dadurian, M.D. –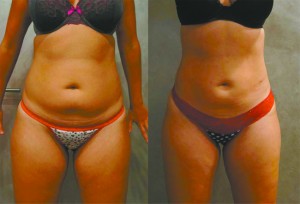 The phrase "Body Contouring" can be intimidating, but it is more of a body tune up to tweak areas on the body that we are not happy with. Body Contouring is a subtle way to fine tune our bodies and helps to regain back our shape. Most importantly, it can bring back your confidence. It doesn't necessarily mean you have to go under the knife with general anesthesia. There are many options to help you achieve your goals with avoiding major surgery.
Among my favorites right now is Coolsculpting. Coolsculpting is unique for many reasons. No incisions, no downtime, no surgery and it delivers great results. It works by freezing the fat cells under the skin, causing them to crystallize as our bodies excrete the destroyed cells via our lymphatic system. If you are reading about this for the first time, it sounds too good to be true, but facts are, this technology is transforming bodies one area at a time.  It works best on pinchable fat.   A cute and funny statement in my practice is "If you can squeeze it, you can freeze it!" We now have the newest Coolsculpting applicator called "Coolsmooth". The Coolsmooth is able to treat the non-pinchable fat bulges on the body that previously could not be treated. An example of that are the outer thighs or otherwise known as "saddle bags."  This is an excellent option for patients who refuse any type of surgery at all.
A slightly more invasive option to shape the body, yet effective is called the SPYDR lift. With the use of a needle and special thread, a patient can easily lift the buttocks and be given a shapelier appearance.  This is slightly more invasive then something like Coolsculpting, however very effective and still only a small amount of local anesthesia is required.
Smart Lipo is a top favorite, because of the ability to sculpt and tighten skin at the same time. The Smart Lipo platform has been around for a long time. An innovative leader in the industry of laser liposuction uses a laser wave length to melt fat and tighten skin it at the same time. It has the ability to reach hard to treat areas such as fat left over from a tummy tuck gone wrong, or from a previous liposuction that left a fat bulge along the diaphragm. Again as all the treatments in my practice, this procedure is performed under local anesthesia and there is very minimal to no downtime. The Smart Lipo triplex is one of the most advanced technologies for laser liposuction that also has the ability to tighten hanging jowls and rid cellulite.
For more information visit www.mdbeautylabs.com or call 561-655-6325 for a complimentary consultation.