By Dr. James McErlain, D.C. –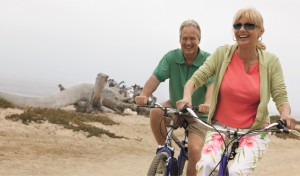 What is Cold Laser Therapy?
Cold laser therapy, otherwise known as low level laser therapy or low light laser therapy (LLLT), has been scientifically proven to increase healing in a targeted area by over 400%. LLLT (Low Level Laser therapy) is a painless, sterile, non-invasive, drug-free treatment used to heal a variety of pain syndromes, injuries, wounds, fractures, and neurological conditions. Laser therapy can be used on virtually all areas of the body (excluding eyes), at any age.
Around the world laser therapy is rapidly becoming a medical therapy that can heal wounds and fractures up to 60% faster and also reduce the cost of treatment for many conditions. In the U.K. LLLT has become the treatment of choice for soft tissue "whiplash" injuries and for the treatment of painful shingles.
According to published medical reports, many acute and chronic conditions may be improved or eliminated with laser use including:
The Cold Laser, or Low Level Laser Therapy, can be used for:
• Inflammatory conditions- Carpal Tunnel Syndrome, Epicondylitis, Plantar Fascitis, Bursitis, Arthritis
• Pain management for Fibric Myalgia Myofscial pain, cervical neck, thoracic and low back pain.
• Connective tissue disorders such as sprains, strains, tendonitis, and tendon ruptures.
• Joint injuries, disorders such as TMJ disorders, osteoarthritis, dislocations, and ligament injuries.
• Muscle injury or disorders such as muscle bruises, contusions, muscle ruptures, and muscle shortening contractures like frozen shoulders.
• Neurological injury or disorders such as prolapsed disc, ruptured or herniated discs, crush injuries, neuritis, and headaches.
How Does Laser Light Heal?
Healing with the use of light is not new. Light therapy was reported to be effective for many conditions by Hippocrates. With the development of the laser and its special properties, using light as a treatment has gained momentum due to the successful outcomes.
Cold laser therapy (also called Low Level Laser Therapy or LLLT) involves the use of light (a specific wavelength and frequency of coherent light, generated from a low-wattage therapeutic laser) to stimulate the body's cells and cause them to accelerate the healing process. The therapeutic use of lasers (LASER is an acronym for Light Amplification by Stimulated Emission of Radiation) is not a new idea; they have been used to stimulate healing since 1967.
The term "cold laser" refers to the specific wavelength of light used, which is usually in the 630 nm to 980 nm ranges of the electromagnetic spectrum.
This wavelength allows for the least energy to be absorbed by surface tissue (meaning that the patient does not experience any sensation of heat or warming), while allowing the healing properties of the light to facilitate wound and tissue healing. Low-level laser therapy has been shown to reduce inflammation and accelerate the body's own healing mechanisms. When cells are exposed to laser light, cell functions are stimulated, improving immune system function, increasing collagen synthesis and enhancing tissue regeneration.
What can you expect during a Laser Treatment Session?
Most people find the therapy quite passive. There are no pulsating shocks, or heat. The most noticeable sensation is the laser head itself touching the skin. Some patients (3%-5%) have reported a slight tingling sensation, but have not found this painful. For the most part the treatment, which can last from 2-20 minutes, is not noticed at all.
Following and even during the session 75-80% of patients noticed an immediate improvement in their symptoms and condition. This will primarily depend on the type of condition treated and the length of time the ailment has been present.
Testimonials:
"After one treatment with the laser, my ankle pain was gone from a chronic water skiing accident."
Steve R. – Severe Ankle Sprain
"I tell people to please don't do the surgery until you try this laser."
Gregory B – Carpal Tunnel
I had tried traditional PT modalities but was unsuccessful. 3 laser sessions and the pain was gone."
Anne K, PT – Piriformis Syndrome
Benefits of Cold Laser Therapy (LLLT)
Obvious benefits of cold laser therapy over drugs or surgery are that it is safe, pain- and drug- free, non-invasive, and has no known side effects. The results are quickly perceived by patients, and laser therapy can be used immediately after an injury. Cold laser therapy has also been studied in over 3000 clinical trials, with proven clinical results. If you are interested in finding out if Cold Laser Therapy will benefit your condition, contact Dr. McErlain at (561) 741-7575 for a consultation.
Stop The Pain! Call Today For a FREE! Consultation 561-741-7575.