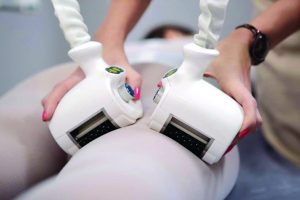 Many individuals struggle with losing and sticking to a weight loss plan. With the sheer number of people discouraged with the scale and the stubborn areas of fat that don't seem to budge, the disappointment from carrying around excess pounds can be overwhelming.
Doctors notice the frustration is not only geared towards female patients, but men as well, and all varying ages from young and old alike seem to have some type of body issues. Not only are extra pounds unhealthy, they sometimes hold people back and hinder their self-confidence. When anxiety from being over-weight sets in, the struggle to lose the pounds gets even more difficult.
When Bella Shape (known as Icoone® in Europe) was introduced to the US, practitioners were clamoring to be some of the first clinics to offer this patented technology to their patients for body shaping and skin rejuvenation using the power of light and laser. This innovated combination of FDA cleared techniques provides a gentle yet efficient skin stimulation for improving the appearance of cellulite while reducing body contouring. The Bella Shape can be used for lymphatic drainage, which has a detoxing effect and can relieve pain, edema, and inflammation.
Patients want Bella Shape
Preparing for summer vacation parties, dinners, family get-togethers, and events are always a little easier when clients feel confident about their body. We've all been there, stubborn bulges, dreaded cellulite, and loose skin can make us feel less likely to wear our favorite clothing with self-assurance. Working out and eating right often fall short in our stubborn areas, and as we age, many of us lose the firmness in our face and body that we once had. Now that Bella Shape is available here in the U.S., educated patients are researching where they can get this treatment.
Bella Shape Value
Remove cellulite and fat deposits
Remove wrinkles and reduces scars
Increase collagen and elastin production
Tighten loose skin after weight loss
Reduce edema and painful inflammation
Promote lymph drainage
Improve wound healing process
Shorten and improve recovery after surgery
Experience tissue coagulation,
before and after liposuction
Normalize cell function
Improve the quality of the skin
Improve body shape
Accelerate blood flow
Relieve muscle tension
No downtime
100% natural cell stimulation
How it Works
The Bella Shape Laser is a comprehensive, non-invasive, body-shaping technology. It works in three very distinct ways. The first is through a motorized massage that gently lifts, suctions and rolls the deep layers of the skin and underlying fat. The second is through the LED light that can permeate through the fat cell membrane. While this fat is penetrated, the continual massaging motions send the fatty deposit and fluid (edema) into the lymphatic system for drainage.
The third component of Bella Shape is the diode laser. It's well documented that diode lasers can penetrate and absorb lipids (fat) by creating a thermal result that melts the fat membranes.
What's even more unique about the Bella Shape Laser is that the rollers are perforated with tiny holes to increase blood flow and nutrient delivery to the skin's layers, allowing collagen and elastin stimulation to rapidly smooth and firm the skin.
For years, Europe has benefited from Bella Shape's revolutionary Cellulite Removal, Fat Reduction, Anti-aging and Wellness treatments, AND now it's finally available in the U.S. With no pain and fast results, isn't it time for patients to get their confidence back?
For physician's, if you're interested in adding Bella Shape to your Services, please contact them at (614) 778-3509, or to find out more about Bella Shape, please visit at bellashapeusa.com.
Bella Shape
614-778-3509
bellashapeusa@gmail.com
bellashapeusa.com.