By Dr. Alan J. Bauman, MD, ABHRS Board-Certified Hair Restoration Physician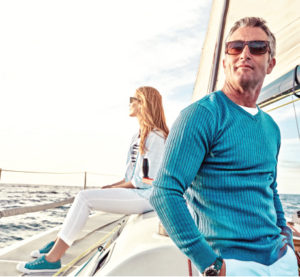 Thanks to new advanced surgical techniques and technology, a growing number of men and women are making the decision to undergo transformational hair restoration treatments. 
But new treatment options aren't the only driving force behind these growing numbers. 
A new concierge medical service, the Executive Hair Restoration Experience℠, is quickly gaining popularity among CEOs and others looking to take advantage of this new technology while also enjoying some much-needed downtime. 
With a 'hair restoration vacation,' you are not only giving yourself a boost by permanently restoring your own living and growing hair, but also treating yourself to a little pampering and relaxation. The idea might seem strange at first, but combining your hair transplant with
a relaxing vacation may be just what the doctor ordered. 
All-Inclusive Destination & Procedure 
Due to a limited number of board-certified hair restoration physicians worldwide, patients often find themselves forced to travel to find a qualified surgeon who can give them the results they desire. 
And what better place to relax post-surgery than beautiful South Florida, where patients can enjoy a plethora of world-renowned luxury accommodations and amenities. At Bauman Medical, your custom hair restoration experience is tailored to your individual needs and desires and includes air travel, luxury accommodations, private car service, fine dining, golf, tennis, relaxing spas, shopping and more. 
Patients are not only able to obtain a customized treatment plan that utilizes the most innovative and effective hair restoration solutions available, but also get to take advantage of receiving their treatment in a relaxed, private and luxurious setting. 
For the busy executive, this one-call-does-it-all service is a desirable feature, especially for those looking to boost their personal and professional confidence, so they can feel and perform at the top of their game. 
Consultations and Preparations
The first step in the process is a preliminary evaluation of your hair status and a discussion about factors that are affecting your hair loss, which can be done easily in-person at our nearly 12,000 sqft facility, or through a private "virtual" video-call consultation directly with Dr. Bauman. During the consultation, your goals and expectations regarding hair transplantation will be discussed and whether you are a candidate for a hair transplant procedure. Next, a personalized treatment plan is created that will give you the best chance at achieving optimal results. 
For the convenience of out-of-town patients, there are a variety of travel and accommodation packages that can fit any style and time frame. Patients and their families are able to enjoy luxury accommodations and amenities while receiving and recouping from state-of-the-art hair restoration procedures, and return home recovered and feeling refreshed.
State-of-the-Art Results
The Executive Hair Restoration Experience℠ offers patients the benefits of industry leading technology called FUE or Follicular Unit Extraction combined with Dr. Bauman's 20+yr experience and natural hair restoration artistry. This game-changing technology, along with Dr. Bauman's highly skilled and qualified transplant team, allows patients to achieve permanent, undetectable, 100-percent natural results. 
The most advanced techniques that are available at Bauman Medical for hair follicle harvesting and transplantation are:
• SmartGraft FUE: Often called the "iPhone of Hair Transplant Devices," SmartGraft is an FDA-cleared mechanical, minimally-invasive surgical hair transplant instrument that works like an extension of the surgeon's hand, allowing the removal of individual follicular units from the donor area located at the back of the patient's scalp which are then implanted into the depleted areas.
This means no scalpels, sutures or staples for the patient in the Donor Area–leaving absolutely NO linear scar. SmartGraft has a sophisticated on-board pneumatic graft collection and storage system that preserves grafts within a carefully controlled environment for optimal hair growth rates and quality.
• ARTAS Robotic-Assisted FUE System: The FDA-cleared ARTAS robot is a state-of-the-art medical device that assists in hair transplant surgery by helping to safely and effectively extract intact hair follicles for transplantation using the FUE technique. The robot's sophisticated micron-level precision allows patients to benefit from an unprecedented level of safety, accuracy, efficiency and comfort during their hair transplant procedure. The system also features stereo-vision sensors to detect and analyze follicular units—calculating density, exit-angles, orientation and location and proceed with precision robotic harvesting based on algorithms programmed by the surgeon.
• NeoGraft FUE: The original "game-changing" device for FUE is still in use today to help surgeons extract grafts from the Donor Area without leaving behind a telltale linear scar. 
Whether your decision is spurred by the desire to keep your transplant private, or you are simply looking to combine some rest and relaxation with your procedure, don't wait to book your 'hair restoration vacation.' The sooner you treat your hair loss, the sooner you can enjoy the benefits of a fuller, thicker more healthy and youthful head of hair.
As we like to say, "Don't just accept your hair loss. Treat it… like a boss!"
To learn more about Hair Restoration Vacations, or to schedule your initial private consultation, visit HairLikeABoss.com or call 1-877-BAUMAN-9 or 561-394-0024.