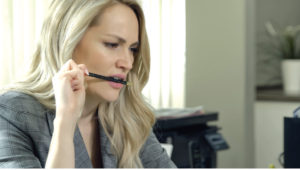 Neurofeedback Can Provide Significant Relief
TU.S. leads the world in a growing global anxiety epidemic.
Fifty-nine percent of Americans polled for the 2019 World Emotions Report by Gallup reported stress and worry the day before they were polled, 24 percent higher than the global average of 35 percent. Polling at 65 percent, Americans under the age of 49 suffer even more than their older counterparts.
What makes Americans most anxious are "keeping myself or my family safe," "my health" and "paying my bills or expenses," revealed a 2018 poll by the American Psychiatric Association (APA). This statistic was 5 percent higher than the same poll conducted by the APA in 2017.
The pharmaceutical "solution"
If you're like many people who fall into that 59 percent, you may take – or are considering taking – pharmaceuticals, like Xanax, to try to feel better.
But what if pharmaceuticals don't work? What if the side effects are unpleasant? What if you don't want to go the medication route?
The problem with medications – they don't teach your brain to operate better and may not eliminate your symptoms.
Finally, there's a non-medication way to rid yourself of anxiety and panic.
A way that works and has no side effects.
It's called neurofeedback
Why you can't calm down
You're probably wondering: why can't I calm down?
In many cases, you can't calm down because the brain is having trouble regulating itself.
It goes on "high alert" all by itself, even though there's no real threat of danger. That's the root cause – and you can't help it.
Combining neurofeedback with body biofeedback
Fortunately, neurofeedback and certain other forms of biofeedback, including body biofeedback, do a very good job of helping regulate the brain and calming the nervous system. Once those are under control, anxiety and panic attacks become less of a problem.
Neurofeedback and body biofeedback can help lessen or eliminate your reliance on medications.
Our new technologies help you better handle everyday "high stress" situations without being overwhelmed. They also reduce the chances you'll have panic attacks.
Neurofeedback trains the part of your brain that controls stress rather than merely helping you manage it. Body biofeedback works to calm your nervous system and promotes better cell-to-cell communication. We repeatedly observe that neurofeedback and body biofeedback together are very helpful for any type of anxiety, even PTSD. (One person described it as "healing from the inside out.")
Among clients who complete their recommended number of sessions, about 75 percent experience improvement in their symptoms.
The gut-brain connection
Biofeedback isn't all we do at the Center for Brain Training. We also look at other solutions, including improving gut-brain health.
There's been a radical shift in recent years in scientific thinking as gut-brain problems have been associated with anxiety and panic attacks. Many experts now believe that mental health isn't only in your head but can also be greatly influenced by your gut health. Improving gut-brain health can impact sleep, mood, anxiety and attention. We frequently recommend diet changes and special dietary supplements that can help improve gut health.
Customizing our approach to each person is a hallmark of care at the Center for Brain Training.
If you're suffering from chronic anxiety or panic attacks, there's something new that can change how you feel. Give us a call today to learn more about neurofeedback.
Case histories
"Nicole" had worked for years as a waitress to put herself through nursing school. When she got her dream job, it soon became a nightmare. Severe anxiety and daily panic attacks made walking into the hospital every day an exercise in courage. She worried that her mental state might impact her ability to care for her patients. A year of experimenting with different medications didn't help. Desperate, she tried neurofeedback. After her third session she felt calm enough to discontinue her medication. After her fifth session she was panic-free, with significantly less anxiety, and was able to discontinue her neurofeedback training.
"Ray," a licensed therapist, was a very wound-up man. He was hyper and anxious most of the time, though he hid it well from his clients. It was exhausting putting up this front, so he came to us for help. He also wanted to get off medication, which he had been on for years. After just one neurofeedback session he said, "I haven't felt this calm in my whole life." That one session didn't solve his problem, of course. He had to do numerous sessions in order for his brain to consistently function differently, but over time his brain learned to stay calmer.
"Brett" had become so paralyzed by panic attacks that he had been unable to work or drive for two years. He was on heavy-duty mood stabilizers, an antipsychotic medication and other drugs. The medications helped somewhat but not enough for him to function. After one month of intensive neurofeedback training, his panic attacks and extreme anxiety diminished, and he was able to drive again.
About the Center for Brain Training
The Center for Brain Training is staffed by a team of compassionate professionals whose mission is to enhance the lives of people suffering from a variety of conditions that can be significantly improved with the help of neurofeedback and other brain technologies.
Welltower Center
550 Heritage Drive, Suite 140, Jupiter, FL 33458
Phone: 561-744-7616
Text: 561-291-9562
www.CenterforBrain.com
About Michael Cohen
Michael "Mike" Cohen is a leading expert in brain biofeedback. Over the past 20+ years, he's helped thousands of clients and taught neurofeedback to more than 2,500 physicians and mental health professionals around the world. He's author of Neurofeedback 101: Rewiring the Brain for ADHD, Anxiety, Depression and Beyond, a comprehensive book for general audiences that explains neurofeedback simply.