Try a Scalp Makeover
Pamper yourself and your follicles with new science-based trichology treatments
By Alan J. Bauman, MD, ABHRS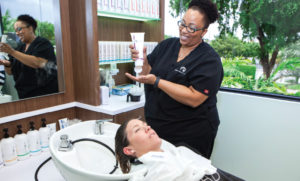 Let's start by getting right to the point. Healthy hair begins with a healthy scalp. Period.
But, unfortunately, because it hides out of sight, we often forget to take care of our scalp – until concerns become noticeable – and then it's simply too late for early prevention. It is important to remember that a beautiful head of hair starts at the scalp; this is why Trichology (trih-kol-uh-jee) is fundamentally so important. We are continually finding new evidence that links inflammation of the scalp with poor hair growth and other common hair problems.
Trichology, the study of the hair and scalp, can address many cosmetic concerns, as well as more serious issues, with the health of your follicles. At Bauman Medical, we have designed an exceptionally comprehensive medical trichology program that offers patients a wide variety of trichological therapies to boost the underlying health of the scalp and follicles, effectively treating a wide range of conditions – from frizz to limp/lackluster hair, excessive shedding or thinning, dandruff, irritated or oily scalp, fungal infections, etc.
If your hair is not looking as healthy as it should or you think your itchy, flaky scalp is trying to tell you something – it might be time to consider a scientific 'Scalp Makeover.' By combining the science of trichology with a relaxing regimen of self-care, men and women are able to achieve a healthier scalp, boost healthy hair growth, all while enjoying a little pampering.
Does Your Scalp Need a Makeover?
Men and women wishing to achieve the most beautiful head of hair possible, as well as those who are experiencing a "symptomatic scalp" (dry, itchy, flaky or oily scalp, excessive hair loss, shedding, damaged/dull hair or hair breakage) should consider scheduling a trichology evaluation. These conditions, while incredibly common, are oftentimes not easily treated with at-home remedies or with over-the-counter products or special shampoos. They also may also be a sign of an underlying health problem. The good news is that a scientific trichology evaluation can begin to help decipher why you are experiencing annoying scalp symptoms and also get to the root cause of your unhealthy hair.
Scalp Evaluation
A scientific scalp evaluation requires special tools and special training. Your scalp's pH, moisture and sebum levels, HairCheck trichometry measurements of hair density, quality and breakage, as well as blue-light and dual-polarized white light microphotography or dermoscopy of several areas and more, begin to tell the story of your scalp's overall condition.
Trichology Treatment Options
Trichology clients at Bauman Medical receive a customized treatment plan based on the findings of their scalp evaluation and specific symptoms and hair and scalp health status. These treatments may include topical serums (including sebum-regulating, hydrating or blood microcirculation stimulants), nutritional guidance or supplementation, scalp steaming with ozone therapy, manual and mechanical scalp massages, exfoliating and-or stimulating scalp treatments, high frequency stimulation, herbal hair boosting transdermal patches (e.g. saw palmetto) and/or low-level laser light therapy. If indicated, medical treatments may include compounded topical or oral prescription medications, PRP Platelet-Rich Plasma or other cell therapy treatments.
The latest, most exciting scalp treatment includes Keravive by HydraFacial. Bauman Medical is one of the first clinics in the U.S. and first in Florida to add this exciting new hydrodermabrasion device to their comprehensive scalp and hair wellness program. The HydraFacial Keravive is a unique treatment specifically designed to cleanse, stimulate, nourish and hydrate the scalp for fuller and healthier-looking hair.
Do Good and Feel Great
While these treatments are science-based, they are also thoroughly enjoyable for women and men. Similar to a massage or facial, your relaxing and therapeutic Scalp Makeover will allow you to enjoy some self-care – while treating your scalp and hair problems.
Highlights of the Bauman Scalp Makeover
Science of Scalp Health: Bauman Medical offers a science-based trichology scalp program designed to optimize the health of your scalp and improve the beauty of your hair.
Pamper your Scalp, and Yourself: Patients can choose from a menu of treatments designed to make them feel relaxed and pampered, while also addressing their hair care concerns, boosting hair health and stimulating health hair growth.
State-of-the-art Technology: Patients also enjoy the benefits of the HydraFacial Keravive, a unique, relaxing treatment designed to cleanse, stimulate, nourish, and hydrate the scalp for fuller and healthier-looking hair.
Exclusive Products: Enjoy a relaxing and spa-like experience during a customized scalp treatment with products that promote and enhance scalp health.
Bottom line on scalp health
Many men and women aren't aware that our hair and scalp act as a barometer for our overall health. This is why you never want to dismiss any issues as merely cosmetic. By not investigating and getting to the root cause of the problem, you may be missing clues to more serious health concerns.
If you have concerns about the health of your scalp and hair follicles, or would like to learn about the Bauman Scalp Makeover, please visit www.baumanmedical.com or call 561-220-3480.