By Lauren R. Rosecan, M.D., Ph.D., F.A.C.S.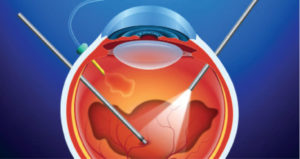 Macular hole is when a tear or opening forms in your macula. As the hole forms, things in your central vision will look blurry, wavy or distorted. As the hole grows, a dark or blind spot appears in your central vision. A macular hole does not affect your peripheral (side) vision.

What Causes a Macular Hole?
Age is the most common cause of macular hole. As you get older, the vitreous begins to shrink and pull away from the retina. Usually the vitreous pulls away with no problems. But sometimes the vitreous can stick to the retina. This causes the macula to stretch and a hole to form.
Sometimes a macular hole can form when the macula swells from other eye disease. Or it can be caused by an eye injury.

Macular Hole Diagnosis
Your ophthalmologist will put drops in your eye to dilate (widen) your pupil. This allows him or her to look through a special lens at the inside of your eye.
Then he or she will take pictures of your eye using optical coherence tomography (OCT). With OCT, a machine scans the back of your eye. This provides very detailed pictures of the retina and macula. Your ophthalmologist studies these pictures to check for problems.

Macular Hole Treatment
Surgery called vitrectomy is the best way to treat a macular hole. Your ophthalmologist removes the vitreous that is pulling on your macula. Then he or she puts a gas bubble or Silicone Oil inside the eye. This bubble or oil helps flatten the macular hole and hold it in place while your eye heals. The gas bubble slowly goes away on its own but silicone oil requires a second surgery to be removed. 

Things to know about
Vitrectomy surgery for macular hole:
Your eye may hurt after surgery. Your surgeon will have you take medicine to help with pain.
You will need to wear an eye patch for a short time. You also will need to put drops in your eye.
You cannot fly in an airplane until the gas bubble is gone. This is because going up quickly in altitude can make eye pressure rise. That can cause problems with the bubble. If you have the oil there are no restrictions.
If you need to have any other type of surgery, be sure to tell your doctor before surgery that you have a gas bubble in your eye.
Your vision will improve as the macular hole closes. It may take several months for the hole to finish healing. How much vision you get back depends on the size of your macular hole. It also depends on how long the hole was there before you had surgery.

Lauren R. Rosecan
M.D., Ph.D., F.A.C.S.
The Retina Institute of Florida with four offices 
conveniently located in Palm Beach and Martin Counties.

Toll Free Phone Number:
1-800-445-8898
561-832-4411

West Palm Beach
901 North Flagler Drive, 33401.
(561) 832-4411 Office. (561) 832-1591 Fax

Palm Beach Gardens
11382 Prosperity Farms Rd., #128, 33410.
(561) 627-7311 Office. (561) 627-6791 Fax

Stuart
618 East Ocean Blvd., #3, 34994.
(772) 287-7026 Office. (772) 220-4186 Fax

Boca Raton
1050 NW 15th Street, #114, 33486.
(561) 368-7723 Office. (561) 368-0093 Fax