Debunking Hair Transplant Myths and Misconceptions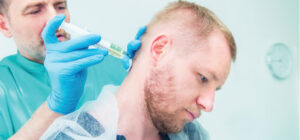 Myths and misconceptions continue to make it harder for the more than 80 million U.S. men and women with hair loss to get the right kind of help – and this is especially true when it comes to hair transplants. Despite cutting-edge technological advancements, many patients still have an outdated picture in their minds of what hair transplant results look like and what it feels like to undergo a procedure.
Will my hair transplant look pluggy?
Absolutely not. The truth is, while pluggy results were common decades ago, today, significant advances in microsurgery techniques and artistry can now make a properly performed hair transplant appear 100% natural. Advanced, minimally invasive hair transplant procedures using an FUE or Follicular Unit Extraction approach enables artistic surgeons and their skilled surgical teams to meticulously relocate as little as one hair follicle at a time. This means there are no "plugs," no rows, and absolutely no linear scars left behind – the signature of outdated linear "strip-harvest" procedures.
What's more, new instruments and techniques developed, even so recently as the past year or so, allow for some procedures to be performed without ANY trimming of hair. The discreet No-Shave Long-Hair VIP|FUE™ process offers patients all the advantages of traditional minimally-invasive FUE – including no staples, no stitches, no-linear-scar, and a more comfortable and less restricted downtime when compared to outdated strip harvesting – but without the downtime of having to undergo a drastic hairstyle change.
Will my hair transplant hurt?
This is often one of the first questions asked by patients considering a hair transplant.
How can a procedure that involves hours of work and thousands of transplanted grafts be comfortable? The use of local anesthesia and medication for relaxation allows for patients to sit, watch movies, listen to music or comfortably nap during their procedure.
Afraid of needles and pain? No worries, thanks to a new computer-controlled local anesthesia delivery system –
a robotic syringe called Dentapen by Septodont. This cutting-edge device, now in use at Bauman Medical, makes injections comfortable by using a microprocessor to control the extremely low speed and pressure of local anesthetic for a completely pain-free injection.
While these new technologies have made the procedure itself comfortable, it also allows for a faster and easier recovery for patients. Because there are no staples or stitches with today's advanced FUE transplant harvest techniques, there is no tension on the skin, and most patients can resume regular activities immediately and get back in the gym within just a few days following a hair transplant.
Patients can expect a little soreness following FUE surgery for maybe a day, but most don't require anything more potent than over-the-counter pain medication.
Biggest takeaways
One of the significant issues with the hair transplant field today is that many unqualified, inexperienced, non-specialist doctors offer this procedure and also perform procedures infrequently. The risks for hair transplant patients visiting these "part-time" providers include increased discomfort, surgical complications, infections, scarring, low density, and unnatural looking results. Another concern is that many doctors and large national clinics still mostly (or only) perform the "strip" or "linear" harvest technique instead of advanced, less invasive FUE procedures. When looking for a hair transplant specialist, make sure you consult with an experienced minimally-invasive hair restoration physician – someone who specializes exclusively in the medical diagnosis, treatment, and tracking of hair loss and performs FUE hair transplantation daily.
The bottom line is, regardless of how the hair follicles are harvested, the critical step for naturalness is the artistic ability of the surgeon involved. Therefore, patients should not choose their surgeon based on the tool they use, but more so on their artistic ability. To find a qualified hair restoration specialist, start by visiting and cross-referencing the American Board of Hair Restoration Surgery (ABHRS), the International Alliance of Hair Restoration Surgeons (IAHRS), and the list of Fellows of the International Society of Hair Restoration Surgery (FISHRS). A talented team will not only provide exceptional results, but also a comfortable experience start to finish. Do your research, ask questions, look at before-and-afters, and don't be afraid to ask for patient testimonials.
For more information on what kind of results you might achieve with an advanced FUE hair transplant or a Long Hair No-Shave VIP|FUE, please visit
www.baumanmedical.com or call 561-220-3480.
Bauman Medical
Hair Restoration for Men and Women
www.baumanmedical.com
561-220-3480