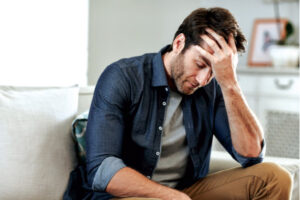 We've all heard the statistics that heart disease, breast, lung and prostate cancer are some of most common disease states in men and women, and if not treated, many times, they lead to untimely death, but we hear very little about the way sexual dysfunction can contribute to other health conditions. Sexual dysfunction affects both men and women. Women often succumb to vulvovaginal atrophy (VVA), which causes pain, and men have issues with ED.
Stress and Intimacy
Sexual dysfunction in a relationship causes men (and women) a great deal of anxiety, stress and depression, low self-esteem, and sexual self-doubt. In turn, these feelings can exacerbate erectile dysfunction. Sexual health dysfunction can lead to depression, anger, anxiety, low self-esteem, sexual self-doubt, and poor body image can all interfere with sexual health and intimacy.
Other Conditions
That Contribute to ED
Erectile dysfunction can have a physical, neurological, or psychological cause. Physical conditions associated with ED include obesity, type-2 diabetes, metabolic syndrome, high blood pressure, high blood fats, coronary artery disease, premature ejaculation, and a deficiency of the hormone testosterone. Medical treatments such as surgery, radiation, and hormones commonly used for prostate cancer and medications, such as some antidepressants, can also cause or worsen ED, as can the use of tobacco, alcohol, and illegal drugs. Neurological conditions that can cause ED include Parkinson's disease and stroke. The psychological causes of ED generally occur in men under the age of 40 and include performance anxiety, relationship problems, religious taboos, prior sexual abuse, and mood disorders such as depression, PTSD, and generalized anxiety.
Issues with sexual dysfunction can begin in the early 30s, but typically affects men in their 40s, 50s, and 60s. Although it's a common condition, it can be a crushing disorder that wreaks havoc on a man's psyche, which in turn, can cause severe anxiety and further intensify erectile dysfunction and low libido.
Wave Therapy for Men
Wave Therapy is a treatment that is all-natural and clinically proven using high-frequency shockwaves to enhance both male and female sexual function, performance, and overall health. It is the only non-invasive procedure that treats the root cause without taking prescription medication.
Over 50% of men experience some degree of erectile dysfunction in their lifetime. There are several factors that influence a man's erection, however, in nearly half of cases of erectile dysfunction is caused by decreased blood flow due to aging blood vessels.
Some may turn to oral medications to combat erectile dysfunction and increase blood flow, but these medications only relieve symptoms temporarily. Wave Therapy focuses on increasing blood flow to the penis to optimize erections, sensitivity, and sexual performance.
P-Shot for Men
Issues with getting an erection, keeping an erection and maintaining sexual desire can be a result of many factors. Some of the causes are physical – obesity, diabetes, high blood pressure – and psychological – stress, anxiety or depression.
The P-Shot® is a specific way of using blood-derived growth factors to rejuvenate the penis. It is a breakthrough, clinically-proven, safe and effective procedure to help you *increase penis size, sexual performance and overall sexual wellness, without the use of any drugs or surgery.
About 60% of men improve after the first P-Shot® and approximately 85% are thrilled after their second P-Shot®. It typically takes about 12 weeks to see the full effect, and some men may require a series of two or three P-Shots®, spaced 8 to 12 weeks in between, to reach their desired potential.
Don't ignore or simply mask your symptoms, discover real solutions with Calla Genics.
Calla Genics specializes in medical aesthetics, non-surgical treatments and hydration therapy that rejuvenate a healthier and happier YOU. Their new and innovative approach uses your body's own regenerative active agents – in the form of own-blood therapies resulting in longer lasting, naturally impressive outcomes.
Call Calla Genics at
(877) 243-6427
to find out how you can save $200 off your first treatment.
7657 Lake Worth Rd. | Lake Worth, FL 33467
CallaGenics.com