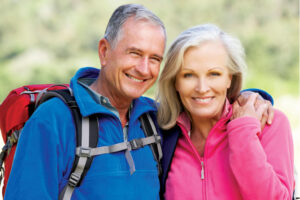 Are you a work-out enthusiast that has pushed too far? Perhaps you are just wanting to be free from joint pain caused by arthritis. Many people suffer from chronic pain, which can be attributed to degenerative disease, injuries, being overweight, inflammation, and a gamut of other issues. One sentiment rings true in these cases; patients want to be able to enjoy their lives once again – pain-free. There are viable options to help you get back to golfing, swimming or hauling your own groceries to and from the store.
If a patient first sees a surgeon, they most likely will be told they need a joint replacement or another surgery to relieve their pain, or they will be given addictive pain medications or steroid injections, which can cause further degeneration and, in many cases, stop working after a period of time.
ALTERNATIVE THERAPIES WORK — STOP MASKING YOUR PAIN
Stem cells are a cutting edge procedure that is gaining traction in the medical field, but not all practitioners are equally experienced in stem cell therapy. Simply Men's Health REJUVAnation Medical Center has years of experience and is continually on the cutting edge of alternative treatments to prevent surgery and treat patients with no drugs or the corresponding adverse side effects.
Stem Cells
Over the past several years, stem cell therapy has become a recommended treatment option due to its natural and proven effectiveness, including orthopedic conditions. Because our bodies naturally produce stem cells, this treatment is not perceived as foreign to our cells, and the injured joints readily accept this treatment option. Our joints are constantly under wear and tear, which causes inflammation and injury to occur. Our own stem cells assist in the normal healing process. Stem cells can regenerate tissue growth and signal repair to the damaged area.
Stem Cell Therapy is revolutionizing medicine and reversing the course of degenerative diseases by harnessing our own body's innate ability to repair, regenerate, and renew.
With stem cells, we can now stimulate our body to rebuild the joint cushioning cartilage and synovial membranes, which can significantly decrease inflammation and reduce pain while restoring mobility.
Exosomes
Exosomes are produced from the plasma membranes of cells and are best explained as extracellular vesicles that offer remarkable regenerative results. Exosomes are nano-sized particles that are released due to an immune response. They act as intracellular communication messengers within the body and have the ability to move between multiple cells. Exosomes are filled with proteins, cytokines, anti-inflammatory factors, and growth factors that stimulate repair and regeneration of damaged tissues. They are also advantageous when paired with stem cell therapy.
STEM CELL AND EXOSOME THERAPEUTIC FINDINGS FROM SEVERAL PEER-REVIEWED STUDIES ARE AS FOLLOWS:
Anti-Inflammatory Effect
Cellular Differentiating Ability
Immunosuppression
Neuroprotection
Self-Renewing Capabilities
Tissue Repair
Regenerative Effect
Anti-Aging
NOT ALL STEM CELLS ARE EQUAL
Amniotic, Umbilical-Placental Therapies Are A Major Breakthrough In Regenerative Medicine: Safe, Clinically Effective, No Rejection and No Surgery
Amniotic and Umbilical Qualities
Immunologically Privileged – This means there is No Rejection Reaction by one's body
100% SAFE from FDA certified and regulated labs
Large amounts of Growth Factors, Cytokines, Exosomes and Hyaluronic Acid
LIVE Message Signaling Cells and Activators
Anti-microbial and Anti-Inflammatory
Non-steroidal
No need to harvest anything from patients
No ethical concerns
Very safe and excellent outcomes
ARTHRITIS, SPORTS INJURIES and JOINT PAIN
Did you once enjoy, jogging, kayaking, tennis, pickleball, or picking up your grandchildren without pain?
We put undue stress and weight on our joints every day. Wear and tear happens with age and repetitive motions or from being overweight. If you are a weekend warrior, sports enthusiast or someone that simply can't manage activities without pain, it's essential to speak to an expert that can guide you to finding relief and restoration from within. Once your body begins to rebuild, and the inflammation decreases, your range of motion will improve as well, which can get you back to doing the things you love.
REGENERATIVE TREATMENTS OFFERED AT Simply Men's Health REJUVAnation MEDICAL CENTER:
Simply Men's Health REJUVAnation Medical Center combines Amniotic and Umbilical Allografts, Exosomes, PRP Platelet Rich Plasma and our exclusive, revolutionary RejuvaWAVE® for ultimate regeneration.
Walk, run, golf and swim again PAIN FREE!
Avoid surgery and repair injured tissue and degenerative disease
Enjoy a spontaneous sex life again. CURE ED and Peyronie's Disease and reclaim your sexual vitality.
Maintain peak sexual vitality throughout your life. No longer does a slowing of sexual performance have to be accepted as a normal part of aging.
Regrow your OWN hair without surgery – STOP hair loss in men and woman.
Look younger and reduce wrinkles and maintain a youthful, healthy skin glow.
Alternative therapies work. If you are tired of living in pain and want to once again enjoy life and the daily activities that are now difficult to endure, contact Simply Men's Health Rejuvenation Medical Center today at (561) 459-5356 or visit SimplyMensHealth.com
Men's Health Rejuvenation Medical Center
(561) 459-5356
SimplyMensHealth.com