By Dr. James McErlain, D.C. –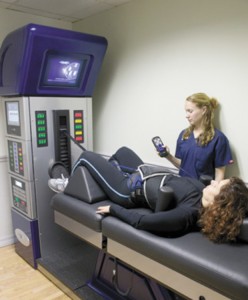 If you are one of the millions of Americans suffering from lower back pain you are familiar with the traditionally prescribed course of treatment: refrain from physical activity, take prescribed pain medication and muscle relaxers, and seek the treatment of a physical therapist. If these steps were not effective spinal surgery was the only hope. This course offers little help for those unable or unwilling to undergo spinal surgery. For those individuals, pain seems like a never ending cycle making everyday activities seem impossible. Until now – innovative technology allows spinal decompression to be precise, gentle, safe and highly effective.
The DRX 9000 is the latest FDA-cleared technology for treatment of back pain due to:
• Low Back Pain
• Sciatica or Radiating (leg and foot pain and numbness)
• Post-surgical patients with failed back syndrome
• Cervical (Neck) pain and related symptoms (Accu-spina Decompression)
How Does The DRX 9000 Work?
The DRX 9000 gently reduces the pressure within the spinal discs so that the patient gets relief from pain in the back and neck. The machine features a specially designed table on which the patient lies down wearing a harness. The table uses a gentle traction force to decompress the lumbar disc. Once sufficient decompression is formed, a vacuum, called "negative intra-discal pressure", is formed, which relieves disc herniation.
The pressure on the accompanying nerves is reduced, which provides relief to the patient from pain and discomfort. While the vacuum is still there, it forces the herniated material to revert back to the disc along with the spinal fluids in order to accelerate natural healing of the adverse spinal condition.
The intelligent technology used in the manufacture of the DRX 9000 spinal decompression machine enables it to auto-adjust the traction levels required by the body by analyzing the reaction of the patient's body. The treatment is fast, generally painless and most patients find it relaxing.
Is it effective?
Spinal Decompression has been proven effective in relieving the pain associated with bulging and herniated discs, degenerative disc disease, sciatica, and even relapse or failed back surgery. Since its release, clinical studies have revealed an amazing success rate in treating lumbar disc related problems with Spinal Decompression.
How do I get started?
Contact our office to schedule an initial consultation with our Dr. McErlain to determine if you are a candidate for care with Spinal Decompression. After carefully studying your case history and exam findings, he will sit down and explain his recommended plan of action for you. After answering any questions you may have about the recommended plan, you may begin your care with Spinal Decompression and start your journey back to pain-free living.
Jupiter Healthcare has had the privilege to help thousands of local patients find relief from back and neck pain. Below are some of the kind words that patients had to say about Dr. McErlain and his team.
"I have never met a doctor and staff in my time that truly cares about his patients as much as Jupiter Healthcare! After my football career I had to have both of my knees replaced. Then came my low back issues-two bulging discs- and about a dozen Epidural shots. Finally after coming to your office and receiving spinal decompression and physical therapy, I can walk with about 85% less pain. It took 20 sessions with very little expense and now I have a much better quality of life. A miracle man is treating patients at 125 Indiantown Road in Jupiter, and I feel great! You and your staff are a true credit to society." ~ Ted M.
"Dr. McErlain is awesome! I have a herniated disc that I aggravated on Sunday. I could not walk without assistance. I was in a lot of pain. I saw Dr. McErlain on Monday and I was able to walk again and my pain had diminished! It is now Thursday and I am feeling 85% better and I know I will only continue to get better as I continue with his treatments. I cannot thank him or his staff enough. Everyone there is so professional and kind." ~ Tracy W.
Reliable back pain relief is within reach!
Your path to wellness begins with a relaxed consultation with Dr. McErlain. We take the time to listen and get to know you in order to understand how we can help. Our thorough examination uses the latest computer technology and onsite radiology to accurately pin point the cause of your problem. Once your findings are studied we'll sit down and discuss in language you will understand the cause of your pain and how to fix it fast.
Stop The Pain! Call Today For a FREE!
Consultation 561-741-7575.