By the Doctors at Advanced Dentistry South Florida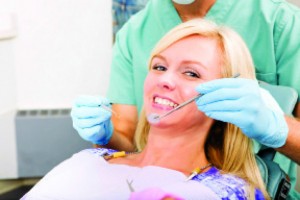 Ok, so you're probably thinking there's no way you're saving money by visiting your dentist. However, it's true! For the past three to four decades, studies have shown that the impact of poor oral health on the body's overall health can be quite dangerous, leading to out-of-pocket expenses for the treatment of diabetes, cancer and heart disease to name a few. This goes well beyond the obvious consequence of neglecting to brush your teeth, which is tooth loss.
The National Association of Dental Plans has reported that individuals without dental coverage are less likely to go to the dentist. Many people have elected to opt out of dental coverage and choose to pay the full amount when a dental visit is "necessary" to them. This is no shock, seeing that a lot of people simply don't place routine dental hygiene visits as a priority.
Not surprisingly, the NADP states that individuals without dental health coverage are 67% more likely to have heart disease, 50% are more likely to have osteoporosis and 29% are more likely to have diabetes. If you are thinking short-term, this strategy may be ok, but imagine the expenses you can accumulate in the long run having to deal with all these health issues.
According to the American Dental Hygienist's Association, every $1 spent on preventive oral care can result in $8 to $40 in savings on future dental costs. Factor in also the major dental procedures such as crowns, dentures, implants and oral surgery that can run upwards of double (yes, twice) the amount you would pay if you had insurance.
Regular hygiene visits to your dentist help detect early signs of decay, gum disease and even oral cancer in some patients. If your hygiene visit has been over 6 months, please do yourself and your wallet a favor and call your dentist to schedule an appointment today.
If you don't have a dentist, please call our office in Delray Beach at 561-404-4043 today, or visit us at www.ad-sf.com to find out more information about us and the dental services we provide to the cities of Delray Beach, Boca Raton and surrounding communities of South Florida.
You can also stop by during the week for a tour of the office. We would be very delighted to show you around our beautiful office so you can see for yourself why so many patients love coming for their dental visits.
Advanced Dentistry
561-404-4083 www.ad-sf.com
Village Professional Center at 15340 Jog Road, Suite 100, Delray Beach, FL 33446.