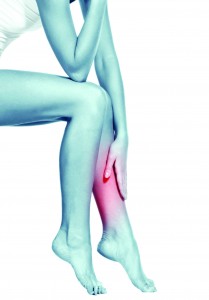 For men and women plagued with unsightly spider and varicose veins the choice to wear shorts or sandals may be non-existent. There are a variety of treatments available claiming to eliminate these pesky veins, however, sclerotherapy remains the "gold standard" for elimination. Sclerotherapy is the art and science of collapsing or closing veins. A very tiny needle is carefully place in the lumen or middle of the vein and medication is slowly injected to close the vein. The outcome of treatment depends on two things: the skill of the injector and the medication injected. Healthcare providers that have performed large numbers of sclerotherapy are, of course, more skilled in this procedure than those who perform this procedure less often.
You may wonder if sclerotherapy interferes with circulation. The answer is no. Once you visualize ugly spider and varicose veins they are no longer doing their job appropriately. Veins have tiny valves inside that work to bring blood back to the heart. The veins that you can see are no longer working effectively to bring blood back to the heart, but rather allowing blood to flow away and then back. In essence, a one-way valve becomes an ineffective and inefficient two-way valve. You still have miles of appropriately functioning veins deep within your legs and feet. The risk of sclerotherapy includes bruising and ulceration. The bruising that results is due to your body's unique ability to eliminate waste. Once a vein is closed your body sends cells that gobble up and eliminate the un-needed end product as waste. The bruising clears up within a matter of weeks. Eventually, the unsightly veins will disappear and the person will have clear legs and feet again! Unfortunately, insurance does not pay for this procedure, as sclerotherapy is considered "cosmetic." Sclerotherapy was once considered financially unattainable for the average person. Now there is an option for those who desire clear legs and feet at an affordable price.
Oceanside Vein Center in Jupiter, Florida prides itself in improving the lives of others at affordable prices.
Victoria Zimmer, MSN, Family Nurse Practitioner—certified by the American Association of Nurse Practitioners—has over 20 years of experience in Palm Beach County working in various facilities in the emergency room, intensive care unit, open heart step-down unit, recovery room, telemetry, and home health care. She has years of experience injecting and treating others.
Victoria maintains and performs services using the most current evidence-based guidelines and uses only FDA-approved medications. Through her work as an adjunct clinical instructor at a local university, Victoria remains current and up-to-date in the latest FDA recommendations and esthetics guidelines, while motivating baccalaureate prepared nursing students to excel in a wide variety of clinical endeavors. Victoria has extensive experience injecting unwanted veins in legs. This procedure is known as "sclerotherapy." In addition, Victoria is extremely proficient in providing Botox and dermal fillers in order to maintain or achieve a beautiful face. Love your legs and face!
Victoria is passionate about providing excellence in your personal treatment. Whether you are coming in for sclerotherapy (spider vein treatment), Botox, or dermal fillers, she guarantees your personal satisfaction.
Our Mission Statement
At Oceanside Vein Center, we pledge to deliver quality services at an improved price. Our hours and scheduling are convenient for patients, and our easy-to-find, beautiful location is directly across from the Jupiter Maltz Theatre on East Indiantown Road. Our convenient parking is at the rear of the building, notably the south side. The south entrance is most convenient to locate our Suite 106-B (on the first floor).
As a brand-new business owned by a nurse practitioner that truly cares about your health and satisfaction, we are determined to provide you with the absolute best in customer service and patient care.
Schedule your appointment today at:
www.OceansideVeinCenter.com or call (561) 685-8796.
We look forward to meeting you!