Life insurance offers your family financial protection if you die and are no longer there to provide for them.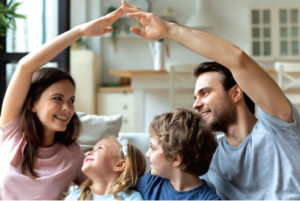 The two main types of policies are whole life and term life, from these you will find some hybrids of them.
Term life insurance lasts for a specific period of time — the term — before expiring. If you die before the term is up, your beneficiary receives a death benefit as a tax-free lump sum of money that can be used for funeral costs, to pay bills, or for any other use. Terms usually last from 10 to 30 years, and you pay a monthly or annual payment (premium) to keep the policy active. Once the term is up, the policy expires, or the premiums will increase 3 or 4 times higher than the original premium. Think of a term life policy has a rental, you do not own it.
Whole life insurance is a permanent insurance policy guaranteed to remain in force for the life of the insured as long as premiums are paid. When you first apply for coverage, you are agreeing to a contract in which the insurance company promises to pay your beneficiary a certain amount of money – called a death benefit – when you pass. You'll choose your coverage amount, and your premium will be calculated based on your age, gender, and health. As long as you pay your premiums, your whole life insurance policy will stay in effect and your premiums will remain the same regardless of health or age changes. Think of a whole life policy as a policy you own, you will also earn cash value with this policy.
Child Whole Life – Usually available from 14 days old to 17 years of age. Locks in childhood rates that will never increase, regardless of age or future medical conditions. Policy provides cash value, that grows along with the child.
Universal Life Policy – is hybrid of term life and whole life policies. Along with providing coverage to protect your love ones from financial consequences of your death, it allows you to build cash value that can be used to later pay for expenses such as college funding or emergencies. If you want flexibility to adjust your payments and the death benefit amounts, and if you have maxed out your 401k, or if you are not eligible and need additional retirement savings options.
** Do you already have a life insurance policy – call or text us to schedule a free policy review** 786-338-0481
Group Life Insurance – also known as work insurance. These are employer provided policies that are typically capped at certain dollar amount or amounts limited to 1 to 2 times the annual salary. Even though this may seem life a lot, but parents with young children may need at least
10 times their salary. Also, you may lose coverage if you lose your job, many policies can not be taken with you, or are very expensive to take it out of the group plan.
**Need more than a Group Life Policy – Contact us to see what options are available to you** Cheryl@CherylMasters.com
Accidental death and dismemberment (AD&D) is a policy that pays benefits to the beneficiary if the cause of death is an accident. This is a limited form of life insurance which is generally less expensive. This policy will only pay of the cause of death is determined as an accident.
Mortgage Protection – this is a term policy that is designed to pay off your mortgage or to cover mortgage payments ( for a certain period of time), if you were to pass away.
** You do not need to have a new mortgage to qualify, ask us** 786-338-0481
Final Expense Program – these are whole life policies that are available to individuals typically from age 45-75 years of age, and for almost all medical conditions. Many people will purchase this policy for themselves or a love one, to cover funeral and Burial costs. Final Expenses can also include medical bills, legal fees, home expenses (rents, mortgages and upkeep).
Beneficiaries – A Beneficiary is the person or persons, or entity that you name in the life insurance policy to receive the death benefits. The Primary Beneficiaries will split the death benefit at the percentages designated by the insured.
The Contingent Beneficiaries will receive the death benefit at the percentage designated by the insured if all the Primary Beneficiaries have passed away.
Captive Agent vs Broker Agent – When shopping for life insurance you will have the option to work with a captive agent or a broker agent. A captive agent will typically work for one exclusive company and may have limited options for products that they can offer. A broker agent is an Independent Agent, they are not exclusive to one company and will be able to shop around with many different companies to find the best product for coverages and rates.
**Interested in working with a Broker Agent, contact us at 786-338-0481**
Cheryl Masters
Masters Life Insurance
786 338 0481
Cheryl@CherylMasters.com
www.cherylmasters.com