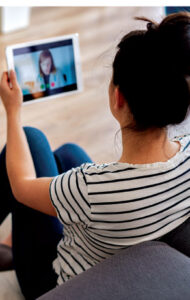 iRecovery (www.irecoveryusa.com) is a Joint Commission accredited telemedicine program based out of South Florida; led by a team of compassionate medical professionals in the mental health and substance abuse fields with Chief Executive Officer Jeffrey Zipper, MD., Chief Clinical Officer Jeffrey Huttman, Ph.D., and Chief Medical Officer Melanie Rosenblatt, MD.
Conceived to provide affordable and accessible substance abuse and mental health treatment for patients that have historically been underserved, the team utilizes groundbreaking and transformational patient-first care that treats the problems at the source and not merely the symptoms. iRecovery provides a virtual treatment team of licensed providers able to follow a patient's care for as long as necessary to promote wellness.
This could not come at a more important time; a recent study by the CDC found that 40 percent of respondents reported a jump in anxiety and depression and 26 percent reported using substances at an increased rate to cope with the effects of the pandemic. The team at iRecovery has seen a marked increase in opioid and alcohol abuse with each passing month since the pandemic began.
iRecovery is setting the standard in offering remote and secure care for their patients to continue to follow through with necessary treatment rather than necessitating a traditional in person inpatient approach.
For more information, please visit their website at www.irecoveryusa.com or call them at 855-770-0605.