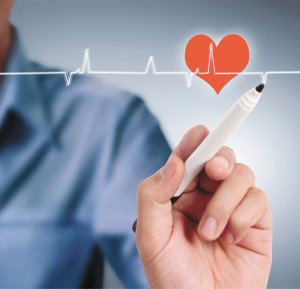 New recommendations were announced in November by the American College of Cardiology and the American Heart Association that will fundamentally reshape the use of cholesterol lowering statin medications . As a result an estimated 31 percent of Americans could benefit from the use of statin drugs. That figure is more than double the current percentage (15 percent) of Americans taking these medications to lower their cholesterol. The recommendation, which is based on a four-year review of data, aims to simplify the multi-process evaluation for people who should be taking statins.
The recommendations back away from
prescribing medicine based on target blood-levels of low-density lipoprotein (LDL), the "bad
cholesterol" that leads to heart attacks and strokes.  Instead of trying to treat down to a level of 100 milligrams per deciliter of LDL for people who haven't had heart attacks or strokes and 70 for those who have established heart disease, the new guidelines suggest that doctors calculate a person's risk of having a heart attack over the next 10 years based on their age, cholesterol levels, blood pressure, and family history of
heart attack. Those people who have a greater than 7.5% risk of a heart attack over that period should take a cholesterol-lowering drug in the statin group.  There are still a few groups that should get statins without doing any math.
These include people whose LDL is over 190, those who have diabetes, except in rare cases, and those who had had a heart attack. But these people no longer have to worry about getting their LDL down to a specific goal – they should just take the most potent statin they can under these new recommendations.
What will this mean in practice?
The number of Americans on statins may double to more than 30 million.  Some patients who would have been prescribed statins under the old guidelines may now be told to lower their
cholesterol the old-fashioned way – via a better diet and more exercise. That's still a terrific way to prevent high cholesterol and heart disease later in life.  While other's deemed high risk for stroke and/or a heart attack in the next 10 years will be recommended to begin a statin regimen.
What are Statins?
Statins (or HMG-CoA reductase inhibitors) are a class of drugs used to lower cholesterol levels
by inhibiting the enzyme HMG-CoA reductase, which plays a central role in the production of cholesterol in the liver. Increased cholesterol levels have been associated with cardiovascular disease and statins have been found to prevent cardiovascular disease in those who are at high risk.
If you or someone you love is at risk for heart or vascular related disorders it is best to work with a Cardiologist to determine your individual risk and comprehensive treatment program.  For more information about your options contact Dr. Ruiz at (561) 336-3031.
Andres F. Ruiz, MD
Board Certified in Cardiovascular
Disease & Interventional Cardiology
Dr. Andres F. Ruiz is a Fellowship-trained and Board Certified Interventional Cardiologist who specializes in the diagnosis and
treatment of cardiovascular disease. In addition to a comprehensive evaluation, full diagnostic imaging is done in his office, followed by an office meeting to carefully structure a treatment plan unique to each patient's pathology.
To schedule a consultation, call 561-336-3031.
Andres F. Ruiz, MD
709 South Federal Highway, Suite 3
Boynton Beach, FL 33435