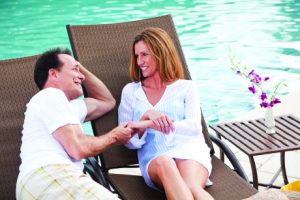 Simply Men's Health is the leader in Men's Sexual Health and a pioneer in the field of regenerative medicine. Simply Men's Health was the first to introduce Acoustic Pressure Wave therapy (shockwave) for erectile dysfunction (ED) in South Florida. And now Simply Men's Health is revolutioniazing the field of men's sexual health by introducing the state-of-the-art RejuvaEnhancement® Procedure to help reverse the inevitable aging process and treat ED and Peyronie's Disease. Peyronies disease is defined as relating to symptoms. Peyronies is a build up of scar tissue in the penis that causes a curvature or bend in the erected penis. This disorder typically causes a great deal of pain during intercourse.
Instead of Medicating —Cure with RejuvaWAVE®
Customary treatment for ED is prescription medications or injections that cause an erection. However, Simply Men's Health has revolutionized this standard of care by introducing the only ED Treatment that CURES erectile dysfunction. The RejuvaWAVE® is revolutionary, non-invasive, and heals the underlying causes of ED. RejuvaWAVE® uses FDA-cleared, scientifically proven technology that uses Acoustic Pressure Waves to stimulate cellular metabolism, enhance blood circulation, and to stimulate tissue regeneration, which creates new blood vessels in treated areas. Traditional treatments for ED, such as pills or injections, lose effectiveness over time and have to be used every time a man wants to engage in sexual activity. Our treatment is about regenerative medicine; helping men return to their younger healthier selves, and enabling a spontaneous, active sex life.
Is RejuvaWAVE® safe?
Yes. RejuvaWAVE® is an FDA cleared technology, originally developed in Europe and used worldwide. RejuvaWAVE® uses state-of-the-art technology that has extensive applications including orthopedic medicine, urology, anti-aging treatments and wound healing. RejuvaWAVE® has virtually no risk and no side effects.
Although acoustic pressure wave technology has been used for over 15 years to treat ED in Europe, it is relatively new to the United States for Erectile Dysfunction. As the leader in men's sexual health, Simply Men's Health introduced this technology in the spring of 2015, and the results have been nothing short of amazing.
Go Beyond Medication –Treat the Root Cause of your Erectile Dysfunction
It's natural for men to experience a decline in sexual performance as they age; this typically happens between the ages of 50 to 60 years old. For many years, this, unfortunately, was just accepted as an untreatable fact of life. Then came the "little blue pill" Viagra. For those men who could tolerate the headaches, stuffy nose and other side effects, the pills were a temporary "Band-Aid" that allowed men to continue performing in the bedroom, albeit robbing them of spontaneity. With time, these pills are known to become less and less effective, and eventually stop working altogether, because they do not address the underlying causes of ED and sexual dysfunction. Simply Men's Health believes in treating and curing the underlying issue with regenerative medicine.
What is Regenerative Medicine and RejuvaWAVE® and
RejuvaEnhancement® Procedure?
Regenerative medicine, rather than treating symptoms, shifts the body into a healing and restoration state. RejuvaWAVE® stimulates your body's own healing response and creates new blood vessels in the area treated. The RejuvaEnhancement® Procedure magnifies the effects of the RejuvaWAVE®.
Simply Men's Health
RejuvaEnhancement® Procedure?
The RejuvaEnhancement® Procedure combines growth factors and stem cells from your own
blood with live, cryogenically-preserved, pluripotent stem cells and growth factors derived from human placentas and amniotic. The amniotic allograft contains over 75 growth factors, cytokines, collagen, and stem cell activators which call the body's own stem cells. In addition, the cryogenically-preserved allograft contains LIVE PLURIPOTENT stem cells and fibroblasts which promotes cell repair and tissue regeneration to help restore your sexual vitality. These stem cells and growth factors work synergistically together with RejuvaWAVE® to restore patients to their younger healthier selves, rather than relying on oral medications or injections as a temporary fix for each sexual activity. Also, this procedure can increase both the length and the girth of the penis by up to one inch.
The Power of Stem Cells?
Stem cells have the potential to differentiate into many different types of cells and can serve as an internal repair system, which can replace damaged or worn out tissue. Pluripotent stem cells, derived from amniotic/placental tissue have virtually unlimited potential to become any type of cell in the body. Adult stem derived from either bone marrow or fat cells are limited to the type of cell they can develop into.
Is the RejuvaEnhancement®
Amniotic Stem Cell procedure safe?
Yes. This cryogenically preserved amniotic tissue has a "100-year history" with no reported recipient rejections since the amniotic tissue is immunoprivileged and does not express HLA type antibodies.
The amniotic tissue is obtained only from live, healthy births. NO EMBRYONIC TISSUES OR NO TISSUE FROM ABORTED FETUSES ARE EVER USED. The amniotic tissue is obtained through aseptic recovery techniques during a planned Caesarian section of full-term deliveries from a healthy woman aged 18-35 who have been prescreened according to the FDA and American Association of Tissue Banks guidelines for infectious disease and have under extensive testing and screening.
What our Patients are Saying:
Testimonial: "I'm a 70-year-old widow and have had ED for over twenty years. Unexpectedly, I met a wonderful lady and when we wanted to take our relationship to the next level,
I couldn't perform. I came to Simply Men's Health and after several months I started to notice improvements… and after about six months ED is no longer a problem. I have sex regularly without any pills or needles." – Joseph M.
Testimonial: "I'm in my sixties, and I had always had a very active sex life, but over the last years even the pills had stopped working. When I first came to Simply Men's Health, I was skeptical, but they were extremely caring and professional, and after several months of treatment I've got my life back… Just as they promised, no needles, no pills and no surgery and I'm performing as I did when I was much younger." – Steve F.
Testimonial: "I am in my 70's and have diabetes, high cholesterol and had my prostate cancer and my prostate removed several years ago. I had tried everything, and I thought my sex life was over. I have been coming to Simply Men's health for about six months, and the results have been amazing. They have restored my ability to enjoy a spontaneous sex life again. The RejuvaWAVE The RejuvaEnhancement procedures are remarkable. I feel like Superman." – E.M.
Call TODAY,
Get your life back tomorrow 561-316-8942