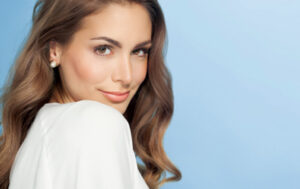 Think that only Botox and fillers can treat fine lines and wrinkles for the face and neck? Think again – A revolutionary in-office procedure that is non-invasive is causing quite a stir in the aesthetic industry. It's highly effective and uses a cooling system to protect the dermal layers of the skin that area being treated. As well as being clinically safe with proven efficacy, and with high patient satisfaction, it's unique and offers multiple advances that make it superior to many other procedures.
Sofwave comfortably delivers Synchronous Ultrasound Parallel Beam SUPERB™ technology, providing a reduction in fine lines and wrinkles and restoration of natural smooth skin features, no matter the skin type.
What is Sofwave?
Starting in our mid-20's, collagen and elastin starts to break down causing our skin to wrinkle. Sofwave is a new, clinically-proven, no downtime, non-invasive approach to rebuilding collagen. Sofwave is FDA cleared for the treatment of fine lines and wrinkles. Sofwave uses a unique delivery form of ultrasound waves, enabling a fast and safe treatment for all ages and skin colors and can be done on all facial and neck areas.
How does Sofwave work?
The depth for treating wrinkles is 1.5mm under the skin. Our unique, Synchronous Ultrasound Parallel Beam Technology SUPERB™ generates heat at this exact depth in the mid-dermis. Additionally, there is an integrated cooling SofCool™ mechanism that protects the uppermost skin layer from burning. The impacted treatment zones stimulate a healing response, called neo-collagenases, which increases and regenerates the collagen in the skin, leading to the reduction in fine lines and wrinkles.
How long is a typical Sofwave Treatment?
The treatment itself is fast, taking approximately 30-40 minutes for the full face and neck region.
How long does it take to see results?
Immediate results can be seen as soon as 1 week following the treatment. However, the collagen regeneration process can sometimes take up to 12 weeks, so patients are expected to see ongoing improvements in the 3-month period after their treatment.
How is Sofwave different from other cosmetic procedures?
Today there are various energy-based technologies designed to treat facial lines and wrinkles, among them: ablative and non-ablative laser technology, Intense Pulsed Light (IPL), radiofrequency devices and High Intensity Focused Ultrasound (HIFU). Yet, the need for non-invasive aesthetic treatments with proven efficacy, safety and minimal downtime, are still unfulfilled. The more aggressive options can cause damage to the upper skin, which in turn, requires a long healing period and considerable downtime. In addition, there is a higher risk of side effects, including discoloration and discomfort. Even RF micro needling treatments, that have recently become popular, can be uncomfortable, risky and require lengthy downtime. On the other hand, other non-invasive solutions haven't shown adequate results. High Intensity Focused Ultrasound (HIFU) has also become an accepted mode of treatment for treating wrinkles. This treatment has been associated with multiple drawbacks, among them, limited treatment areas, longer treatment times, excessive pain and additional adverse effects, such as burns and injury to nerves. Sofwave's unique technology protects the skin surface with a cooling mechanism and the treatment is effective and safe for most patients. There is no downtime or pain post treatment.
MD Beauty
Labs & Wellness Center
MD Beauty Labs offers groundbreaking technology for their patients that provides surgical-like results with no incisional scars, less downtime, and long-lasting results. Come to MD Beauty Labs to find out why clients from across the Palm Beach area choose us to help them reach their aesthetic goals. We proudly serve residents throughout Palm Beach County, including West Palm Beach, Boca Raton, Wellington, Jupiter, Royal Palm Beach, Lake Worth, and Delray. Our team is dedicated to finding and meeting your every beauty need
Daniela Dadurian, M.D.,
Medical Director
Daniela Dadurian, M.D., specializes in anti-aging medicine, laser treatments, and cosmetic medicine. She's traveled the world to research the safest and latest technologies on the market to provide you with the best possible treatments and care.
Dr. Dadurian received her medical degree from the University of Miami School of Medicine and is board-certified in anti-aging and regenerative medicine, as well as laser surgery. Her expertise in anti-aging techniques and her passion for excellence are reflected in the attentive personal care she gives each patient.
MD Beauty Labs offers medical, spa, and body treatments within a luxurious contemporary loft environment. We are committed to providing a revitalizing experience. Dr. Dadurian, alongside her team of nurses, medical estheticians, massage therapists, permanent makeup specialist, and medical spa concierge, is here for you.
Do you want to have tighter, brighter skin, and turn back the clock without surgery? Contact the experts at MD Beauty Labs today!
To schedule your appointment, please call West Palm Beach at (561) 513-5817, Palm Beach at (561) 288-6678, or visit MDbeautyLabs.com.
Daniela Dadurian, M.D. received her medical degree from the University of Miami School of Medicine. She is certified by the Board of Anti-Aging & Regenerative Medicine and the Board of Laser Surgery. Dr. Dadurian has also completed a fellowship in Stem Cell Therapy by the American Board of Anti-Aging Medicine. She is a member of the International Peptide Society, the American Academy of Anti-Aging Medicine and the Age Management Medicine Group. Dr. Dadurian is the medical director of several medical spa and wellness centers in palm beach county with locations in West Palm Beach and on the island of Palm Beach. She is a leading expert in anti-aging & aesthetic medicine. Her state of the art facilities offer and array of anti-aging, functional medicine, cosmetic and laser therapies.
MDbeautyLabs.com
320 S. Quadrille Blvd., WPB
West Palm Beach, Fl
561-655-6325
340 Royal Poinciana Way, Suite 330-M
Palm Beach, Fl
561-797-9090
Source: Sofwave.com