By Dr. Alan J. Bauman, MD, ABHRS Board-Certified Hair Restoration Physician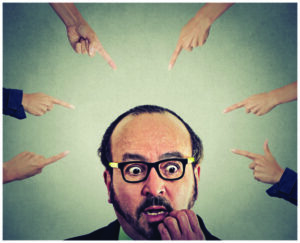 One of the scariest aspects of hair loss is that the process is often well underway before you can see it in the mirror. "Invisible baldness" is essentially the initial stage of a chronic hair loss condition such as androgenetic alopecia that is especially difficult to spot with the naked eye. Scientific research confirms that it generally takes about 50% of the hair to be gone before baldness or lack of coverage becomes visibly detectable (e.g., receded hairline, widening part, thinning on top, etc.). In general, hair loss is a chronic, progressive condition that gets worse over time without treatment – making it essential for men and women to learn their risk and take a proactive approach to managing and treating their hair loss.
But, as scary as hair loss can seem, treating hair loss doesn't have to be.
Fear – I'm destined to go bald like my dad, grandpa, etc.
While it is true that genetics is the main cause of hair loss in men and women; today we know that there are approximately 200 genetic markers that regulate hair and hair growth and that these "genes" can be inherited from either your mother and father's side or a combination of the two. If you are worried your genetics may be putting you at risk, testing is available that can determine an individual's risk of losing their hair so they can begin preventative treatments early – at a time when they can be most effective. Hair Mass measurements using the HairCheck® device help evaluate hair loss conditions non-invasively, and measure early responses to therapy over time – months before they're noticeable to the naked eye.
Fear – The only option for treating hair loss is a hair transplant.
Patients often delay seeking treatment to their hair loss or thinning, because of fears relating to treatment. This can put them at a severe disadvantage, as early intervention is the key to preventing and managing hair loss. Once you understand the cause of your hair loss, you need to determine the best way to stop losing more hair, enhance the hair you have and restore the hair you've lost. For most patients, this means using a combination, or 'multi-therapy,' approach: non-invasive treatments to protect the hair you have and hair transplantation to restore the hair you've lost. Some patients are able to accomplish their goals using only non-invasive treatments, including these cutting-edge treatment options:
High-Density Platelet Rich Plasma (HD-PRP) "Vampire" Hair Regrowth Therapy with Extracellular Matrix (ECM)
PDOgro™ – Implanted PDO Polydioxanone threads for hair growth
Compounded Formula 82M Topical Minoxidil – a more powerful, non-greasy Rogaine alternative
Fin.481 pharmacy-compounded 1.25mg finasteride (Propecia) with a sophisticated blend of hair-healthy nutrients including Biotin, L-Lysine, Zinc, Riboflavin, MSM, and Folic Acid, in a convenient daily oral capsule for hair regrowth.
Compounded Formula 82F Topical Finasteride + Minoxidil – designed to reduce the risk of side-effects from oral finasteride.
Low-Level Laser Therapy – FDA-cleared, drug-free, side-effect-free hair regrowth using powerful physician-only devices such as CapillusRX 312 or the TURBO LaserCap devices for at-home use.
Non-surgical 3D-Printed Hair Systems or Cranial Prostheses
Nutritionals & Nutraceuticals: SuperBiotin, Nutrafol & ViviscalPRO
While these advanced treatments can be effective for protecting follicle function and stimulating healthy hair growth, once hair density is severely depleted, the only option for regrowth in that area is a hair transplant. And speaking of hair transplants…
For many patients, especially younger patients, the idea of a hair transplant is simply frightening, but this is largely due to misconceptions and outdated information. So let's take a look at today's transplants and why they are nothing to fear.
Fear – Hair transplants are pluggy and painful.
While this may have been true decades ago, today, major advances in microsurgery, anesthetic techniques, and careful attention to patient comfort now allow skilled surgeons to comfortably restore permanent living and growing hair artistically, with 100% natural results. New, minimally invasive hair transplant procedures using an FUE or Follicular Unit Extraction approach enables skilled surgical teams to meticulously relocate as little as one hair follicle at a time so there are no "plugs," no rows, and absolutely no linear scars left behind, which are typical of outdated linear or "strip-harvest" procedures.
Fear – Everyone will know I had a hair transplant.
Cosmetic healing from a modern hair transplant typically requires about a week. When surgeons take a minimally invasive approach with SmartGraft FUE or ARTAS Robotic System for transplant harvesting, there are no stitches to be removed, recovery is shorter, more comfortable and less-restricted, and there is no telltale linear scar to hide in the long run.
While hair restoration doesn't have the stigma it once did, for those who still wish to keep their transplant procedure a secret, there are even newer options available. One of the latest techniques is VIP|FUE™ No-Shave Long-Hair Follicular Unit Extraction, during which absolutely NO hair is trimmed for the procedure; ALL hair remains the same length. Hair follicles are extracted from the donor area and implanted into the recipient area without ANY trimming of hair whatsoever. The healing Donor Area remains completely hidden amidst the surrounding full-length hair and a 100% completely normal appearance of the Donor Area immediately after your procedure is maintained. No dramatic shave or trim is required around the sides and back of the scalp.
Just remember, hair loss is no longer inevitable, it's optional, but only if you take action and take advantage of the effective tools and treatments available. When executed properly, hair restoration can be a fantastic, rewarding, and life-changing decision that most patients regret not doing sooner.
For more information on the causes and treatments for hair loss, or to learn what kind of results you might achieve with an advanced FUE hair transplant, please visit www.baumanmedical.com or call 561-220-3480.