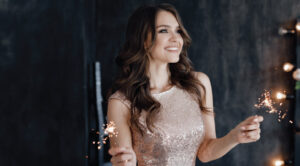 Stress, sun exposure, and the general effects of aging can wreak havoc on our skin, as well as dehydration, a poor diet, and a lack of sleep. The good news is you have options. Did you know that when we look better, we feel better? In major studies, they've concluded that the way we look has a significant impact on our psyche. Beauty may not just be skin deep – feeling better about our appearance can give us a boost in our confidence level and our outlook on life.
Clear Vue Eye Center offers
aesthetic injectables such as BOTOX® and XEOMIN® (onabotulinumtoxin A), fillers (hyaluronic acid)
and KYBELLA® (lipolysis).
BOTOX® and XEOMIN®
When most people think of aesthetic injections, BOTOX® is often the first thing they think of because it's been around for many years and iswell known. Both BOTOX® and XEOMIN® are FDA approved drugs that relaxes the muscles of expression in the face for several months.
These are injected in various areas of concern via tiny micro-injections in small doses to alleviate wrinkles and give a more youthful appearance. It freezes the muscles so that you can no longer, scowl or make the muscular contractions that caused the wrinkles to form. BOTOX® has been trusted for over 30 years, but XEOMIN® also has multiple benefits and is well known and trusted by many specialists. XEOMIN® is an FDA-approved, uniquely purified anti-wrinkle injection (without unnecessary proteins) for frown lines, and it typically takes about three days before results are seen, whereas BOTOX® can take up to seven.
FILLERS
As we age, some areas of the face can become gaunt, thin, sag or develop deep lines. Fillers are injections that raise the volume of the area above and around your cheekbones, lips, and other areas of concern. This provides the illusion of a more defined bone structure and soft tissue fullness. Some of these are considered off-label use.
There are several kinds of materials that are approved for use in fillers. Hyaluronic acid is the main ingredient used in all brands of fillers; however, BELOTERO® is Clear Vue Eye's first choice for their patients because it is superior in several ways.
BELOTERO® is the first and only smooth consistency gel formulation, and the only HA dermal filler developed using the proprietary HYLACROSS™ technology, a technologically advanced manufacturing process that results in a malleable, smooth gel. BELOTERO® flows easily into the skin and creates a smooth, natural look and feel. All other HA dermal fillers currently on the market have a granular consistency gel. These granules can be seen under 2.4X magnification as opposed to the smooth consistency gel of BELOTERO® dermal filler.
In addition, BELOTERO® contains a high concentration of non-animal, cross-linked HA. This unique attribute provides optimal results with a single treatment in the majority of patients and delivers sustained results for up to one year.
BELOTERO® dermal filler is biodegradable and has demonstrated its safety and effectiveness in patients of color. Studies with BELOTERO® demonstrated no increased risk of hyperpigmentation or hypertrophic scarring in patients of color. It can be administered in a smooth-flowing injection, providing physicians with a high level of control for individualized, tailored wrinkle treatment and for achieving a smooth and natural look. BELOTERO® The dermal filler material eventually dissolves and metabolizes into your skin tissue.
KYBELLA®
Along with those issues, many of us might be noticing a little more submental fullness in our faces. Is it the overindulgence, or is it aging? If you're growing tired of the "double chin" that's formed, there is an FDA-approved treatment that's easy, efficient and highly effective.
Injection lipolysis uses the chemical deoxycholic acid to disrupt and kill fat cells in the treatment area. KYBELLA® has FDA approval for this purpose and is an effective alternative to surgery.
Your practitioner marks a grid pattern on the skin under your chin and numbs your skin with a local anesthetic. They then inject the KYBELLA® into the grid to ensure even distribution. After your injection lipolysis session, it takes 6-8 weeks for most patients to see a visible reduction in their double chin.
About Monique M. Barbour, MD:
A Board Certified Ophthalmologist
In addition to Advanced ophthalmology services, Dr. Barbour specializes in aesthetics.
What We Offer
Thanks to Dr. Barbour's glamorous appeal, and cutting-edge fashion style, Clear Vue Eye Center has become the spotlight in western communities.
Ophthalmology
Optometry
Optical
Emergency Eye Care
Botox and Dermal Fillers
Cosmetic Lasers
Aesthetics
Pterygium and Eye Whitening
Laser Vision Correction Surgery
Community and Non-Profit Services
Multilingual Staff
To learn more about Clear Vue Eye Center and their eye health expertise, please visit, ClearVueNow.com or schedule your appointment by calling 561-432-4141.
Monique M. Barbour, M.D.
Dr. Barbour A Board Certified Ophthalmologist. She attended Saint Augustine's College in Raleigh, North Carolina where she received my bachelor's degree in Pre-Medicine. Dr. Barbour graduated with honors from Howard University College of Medicine in Washington, D.C. and completed a residency in Ophthalmology at the Albert Einstein College of Medicine in Bronx, N.Y.
After residency, she completed a Glaucoma fellowship at Georgetown University in Washington, DC and a Refractive Surgery fellowship at the world renowned Institute de Clinica Barraquer in Bogata, Columbia. Dr. Barbour has been the medical director of Clear Vue Laser Eye Center, a state-of-the-art vision care center for the past 15 years. As a diplomat of the American Board of Ophthalmology and a member of the American Academy of Ophthalmology, she is dedicated to providing the highest quality of ophthalmic care. Dr. Barbour speaks multiple languages including Española.
Clear Vue Eye Center
7657 Lake Worth Road, Lake Worth, FL 33467
561-432-4141
www.ClearVueNow.com