Dr. Monique Barbour
Clear Vue Eye Center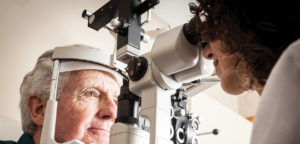 According to the American Academy of Ophthalmology, Cataracts affect more than 24.4 million Americans age 40 and older, and by age 75, more than half of that demographic will have advanced cataracts.
The usual symptoms of cataracts are blurry vision, seeing double, sensitivity to light (both natural and synthetic), trouble with night vision, and irritated eyes. The lens of the eye that is affected is behind the iris (the colored area of the eye). This lens filters light through the eye into the retina, allowing signals of the images that we see to transmit to the brain. But with cataracts, the lens is cloudy and scatters the light, causing blurred vision. If left untreated, cataracts can cause blindness.
The primary cause of the haziness of the lens is aging, but other issues can contribute to the disorder like smoking, family history, obesity, diabetes, excessive UV light (sun) exposure and disease. All of these risks are significant factors in the forming and worsening of cataracts. With cataract surgery, the Intraocular lens must be replaced. If both eyes need surgery, one will be done at a time to allow for optimal healing as well as optimal vision from the opposite eye.
The Refractive Cataract Surgery Difference with Dr. Monique Barbour at Clear Vue Eye Center.
LASER-ASSISTED CATARACT SURGERY: Laser-Assisted Cataract Surgery – the latest exciting innovation available from Dr. Monique Barbour at Clear Vue with Dr. Barbour's revolutionary, high-tech implant procedure
Removing cataracts surgically is the only option. Dr Barbour performs cataract surgery at several local hospitals and surgery centers on an outpatient basis. In most cases, Dr. Barbour anesthetizes the eye with topical anesthetics and combines a clear corneal incision with a procedure called Phacoemulsification. Using this small incision surgical technique, a special instrument uses sound waves (ultrasound) to break apart the cataract and remove it. An intraocular lens (implant) is inserted at the time of cataract removal as a replacement for the natural lens that was cloudy. Small incision cataract surgery which does not require any stitches means a shorter recovery time so you can see clearly right away. After your eye has healed from the surgery, a change in your eyeglasses will be necessary to insure the sharpest vision. However, with Dr. Barbour's groundbreaking procedure, you might not need glasses at all.
Latest Advancements in Laser-Assisted
Cataract Surgery
There are some exciting options available for patients considering cataract surgery. Dr. Barbour is trained on the Lensar and Catalyst femtosecond laser systems which are the newest surgical methods for assisted cataract surgery. The Lensar laser system was the first femtosecond laser to gain approval for cataract surgery. The laser is directed to make the entry incisions and correct astigmatism at the time of cataract surgery.
There are several options available for the type of implant that patients may choose to enhance their vision or become less dependent on glasses. The 'multifocal' or 'accommodating' type of implant helps patients achieve maximum vision potential with focusing capabilities for distance, intermediate and near. The 'toric' implant corrects astigmatism. Dr. Barbour uses both the 'multifocal' and 'toric' implants to help you achieve your goals of becoming less dependent on glasses. Alternatively, astigmatism may be corrected using the Lensar laser system and an 'accommodating' implant can be implanted at the same time to reduce the need for glasses.
To learn more about femtosecond cataract surgery, Please visit Abbottmedicaloptics.com.
Clear Vue Eye Center
Our comprehensive eye examination uses the latest state-of-the-art instrumentation to diagnose and treat:
• Cataracts & Astigmatism
• Dry Eye Syndrome
• Glaucoma
• Diabetic Eye Disorders
• Pterygium
What We Offer
Thanks to Dr. Barbour's glamorous appeal, and cutting-edge fashion style, Clear Vue Eye Center has become the spotlight in western communities.
• Ophthalmology
• Optometry
• Optical
• Emergency Eye Care
• Botox and Dermal Fillers
• Cosmetic Lasers
• Pterygium and Eye Whitening
• Laser Vision Correction Surgery
• Community and Non-Profit Services
• Multilingual Staff
• Dry Eye Center
To learn more about Dr. Monique Barbour and Clear Vue Eye Center and their eye health expertise, please visit our website at clearvuenow.com and facebook page at State-Of-The-Art Instrumentation or schedule your appointment by calling 561-432-4141.
Monique M. Barbour, M.D.
Dr. Barbour A Board Certified Ophthalmologist. She attended Satint Augustine's University in Raleigh, North Carolina where she received her bachelor's degree in Pre-Medicine. Dr. Barbour graduated with honors from Howard University College of Medicine in Washington, D.C. and completed a residency in Ophthalmology at the Albert Einstein College of Medicine in Bronx, N.Y.
After residency, she completed a Glaucoma fellowship at Georgetown University in Washington, DC and a Refractive Surgery fellowship at the world renowned Institute de Clinica Barraquer in Bogata, Columbia. Dr. Barbour has been the medical director of Clear Vue Laser Eye Center, a state-of- the-art vision care center for the past 15 years. As a diplomat of the American Board of Ophthalmology and a member of the American Academy of Ophthalmology, she is dedicated to providing the highest quality of ophthalmic care. Dr. Barbour speaks multiple languages including Spanish.
Clear Vue Eye Center
7657 Lake Worth Road, Lake Worth, FL 33467
561-432-4141