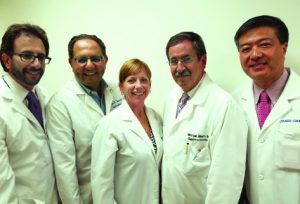 South Palm GI, located at 4675 Linton Boulevard in Delray Beach, Florida, is now part of Gastro Health, South Florida's largest, private gastroenterology practice.
Founded in 2006, Gastro Health comprised of over 60 physicians in 25 locations. Gastro Health provides patients access to some of the nation's premier gastroenterologists, pediatric gastroenterologists, colorectal surgeons, and allied health professionals. In addition to delivering gastrointestinal care, providers offer a wide range of additional services including: anesthesia, infusion, imaging, pathology, specialty pharmacy and in-office RX dispensing.
Patients can take comfort in the fact that South Palm GI physicians – which include Dr. Michael Blum, Dr. James Chong, Dr. Jonathan Kaplan and Dr. Morris Naus – will continue to provide the highest quality care for procedures such as colonoscopy, upper GI endoscopy, liver biopsy and more. Additionally, South Palm GI employs an advanced registered nurse practitioner, specializing in gastroenterology.
By joining Gastro Health's network, the group will continue to provide patients the safe and affordable gastrointestinal care they need. All of Gastro Health's care centers are equipped with the latest state-of-the-art technology to ensure the best outcomes possible for each individual patient.
"We are very excited to become a part of Gastro Health, which is one of the preeminent leaders in gastroenterology in the United States." said Dr. Michael Blum, President of South Palm GI. "We look forward to expanding our patient care services and continuing to deliver quality gastrointestinal care for our patients."
South Palm GI is Gastro Health's 23rd South Florida location and its 3rd in Palm Beach County. Other Palm Beach County locations include 9980 Central Park Blvd. North, Suite 316 in Boca Raton, Florida and 1157 South State Road 7 in Wellington, Florida.
"We are thrilled to have South Palm GI join Gastro Health, which complements our new Wellington location and plans for expansion in Palm Beach County," said Gastro Health, CEO, Alejandro Fernandez. "South Palm GI is a premier practice located in Delray Beach, FL with highly skilled providers and staff. We look forward to helping the community of Delray Beach with all of their digestive health needs."
For more information about Gastro Health, visit
gastrohealth.com
.
Call Gastro Health at (844) 795-6424 to schedule your screening.
www.gastrohealth.com