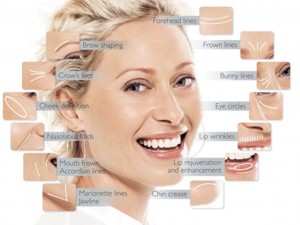 The Liquid Face Lift is a term used to describe lifting the face without surgery.  The "liquid" part refers to the fillers that are designed to fill in wrinkles or hollow areas on the face and the "lift" refers to the lifting effect once the fillers are injected. "Fillers" are products that are injected into the skin not only to fill in wrinkles, acne scars and enhance lips, but also to volumize the face.  Understanding all the different types of fillers can be a confusing process, for example, many times a person will ask for Botox to fill in lines without really understanding what Botox is for. In the past there were only a couple of choices for filling in wrinkles. Now there are so many fillers out there, making a decision as to which one fits your needs, has to be guided by a trusted medical professional.  Filling in the face requires more than just a steady hand to inject, it should be accompanied by an artistic eye and in depth knowledge and experience from a practitioner. Knowing which product to use and where to use it, also plays a critical role in the liquid lift.
A face that is hollow under the eyes, has sunken-in cheeks, nasolabial folds (lines from the nose to the corner of the mouth) or marionette lines (line from the corners of the mouth to the chin) all describe the common conditions that are treated with fillers. The term marionette comes from the classic marionette puppets that have a separate mouth to the rest of the face, which gives the appearance of two long creases running down the mouth to the chin. An inexperienced injector may let you choose which filler you would like to use based on cost or personal request, however an experienced practitioner will listen and recommend specific fillers for each different area of the face that may be more beneficial. How long you would like the correction to last will also determine the types of product that is chosen.
Although not a filler, Botox plays an important role in the liquid face lift. It is used to smooth out the lines on our face that only appear while making distinguished facial expressions such as smiling or frowning.   A common misconception about Botox is that it is used to fill in wrinkles, however it works to smooth out new wrinkles and prevent static wrinkles. Static wrinkles are those that are permanently etched on the face even when the face is in the resting position.  Botox has been used for many years on patients, even in children, who have strabismus (an abnormal alignment of the eye) long before it was FDA approved for cosmetic use.
The newest filler on the market is called Juvederm Voluma. New facial fillers have been released each year to compete against a host of anti-aging and beauty procedures. Products like Juvederm, Radiesse, Belotero and Sculptra are commonly used to turn back the clock. The most sought after ingredient in a filler is Hyaluronic Acid, mainly because it can be reversed in the event a patient is not happy with treatment outcome.  Hyaluronic acid when used as a cosmetic filler, makes the treatment outcome more desirable for a couple of reasons. It is safe and natural looking and the only downside is that hyaluronic acids may not last as long as some other products, until now.  A long time player in the cosmetic industry, Allergan, the company who manufactures Botox, Latisse and the popular product Juvederm XC, has now released its newest creation, Juvederm Voluma. Juvederm Voluma is a unique product because it is a hyaluronic acid based product, but it is the first hyaluronic acid product formulated to volumize the cheeks and midface. As a bonus, it can last up to 2 to 3 years.  For more information contact mdbeautylabs at 561-655-6325.
MD Beauty Labs at The Whitney in West Palm Beach was established by Dr. Daniela Dadurian. Board Certified in Anti-aging Medicine, she's well trained to offer proven and effective cosmetic and Daniela Dadurian, M.D. wellness services. MDBL's Medical Director state-of-the-art facility offers Medical, Aesthetics, Body Contouring & Spa Treatments in a luxurious, contemporary loft environment. With Dr. Dadurian's team of Nurses, Medical Estheticians, Massage Therapists, Permanent Makeup Specialist and Medical Spa Concierge, MD Beauty Labs is dedicated to providing the best in restoring and revitalizing experiences.