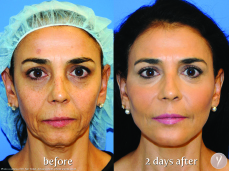 The aging process is unique to every person. Some people age gracefully as the saying goes, and others simply age. Whichever way that may look for an individual, it is important to realize the many factors that contribute to the aging process. Usually the first signs of aging appear on our skin and face. This can be due to environmental factors such as excessive sunbathing or smoking. Medication usage or illness can also play a role in the aging process along with malnutrition, excessive weight loss or weight gain. So as all of these factors may take their toll on the body, aging usually appears in the face due to volume loss or loss of collagen under the skin. The overall face tends to look loose and saggy in appearance, with a much less defined jawline. Jowls may appear and cheeks can give the impression of being sunken in. All of a sudden, lines from the corner of the nose down to the mouth start to form and this is the beginning of the tell-tale signs of aging. So for most people, the fight against aging continues and thoughts of the inevitable facelift arise. However, many times invasive surgeries like a facelift can be postponed or even avoided using a new injection technique known as the Y-Lift.
The Y-Lift is an incredible new way to inject hyaluronic acid filler that doctors have already been using to inject for years. Hyaluronic acid fillers are taking over the beauty industry for many important reasons. Hyaluronic acid is derived from a naturally occurring sugar molecule that is already in our bodies. Due to the substance already being present in our system, one is very unlikely to be allergic to it. Hyaluronic acid is also a water binding molecule so it adds moisture to the skin. As the most coveted filler type of all, it can easily be dissolved in the event of an unwanted outcome and in most cases results in little to no swelling and/or bruising. The Allergan Brand Collection of fillers that are most commonly used in this technique include Juvederm, Voluma, Vollure and Volbella. All of these fillers have specific indications of where they are best used in the face and can last up to 24 months. Due to the nature of the product, it promotes collagen production, thereby allowing the product to last even longer than indicated in some cases.
So if the Y-Lift uses products that have already been used, what makes it so different? It is different mainly because instead of using a needle, a cannula is used. By using a cannula, you have less entry points into the face and therefore less chance for bruising. The other key difference is that the product is being injected deep on top of the bone. This is important to know for a couple of reasons. First, when the product is injected into that area of the face, it is not being delivered through tissue and blood vessels, therefore minimizing discomfort. Second, when the product is injected under the muscle, you are not able to feel it from the outer surface of the skin, allowing for a more natural result and minimal chance of any lumps or bumps at all.
The Y-Lift delivers results in under an hour with no surgery and no downtime. It has been named "The 30-minute Miracle Facelift" by Dr. Oz and has been featured in journals across the globe such as Beauty World News, Forbes Magazine, Elle Magazine, Harper's Bazaar, Marie Claire and many more.
The best way to discover if you or someone you know is a candidate for the Y-Lift is to have a complimentary consultation with your trusted provider. Each face is unique and prices are determined based on the anatomy of each individual. To schedule your first consultation call 561-655-6325 or visit www.mdbeautylabs.com.
Daniela Dadurian, M.D. received her medical degree from the University of Miami School of Medicine. She is certified by the Board of Anti-Aging & Regenerative Medicine and the Board of Laser Surgery. Dr. Dadurian has also completed a fellowship in Stem Cell Therapy by the American Board of Anti-Aging Medicine. She is a member of the International Peptide Society, the American Academy of Anti-Aging Medicine and the Age Management Medicine Group. Dr. Dadurian is the medical director of several medical spa and wellness centers in palm beach county with locations in West Palm Beach and on the island of Palm Beach. She is a leading expert in anti-aging & aesthetic medicine. Her state of the art facilities offer and array of anti-aging, functional medicine, cosmetic and laser therapies.
Complimentary Consultation / Gift Cards
Financing Available
MD BEAUTY LABS
320 S. Quadrille Blvd., WPB
West Palm Beach, Fl
561-655-6325
340 Royal Poinciana Way, Suite 325D
Palm Beach, Fl
561-797-9090